JULY 4, 2012
Nicole Mingie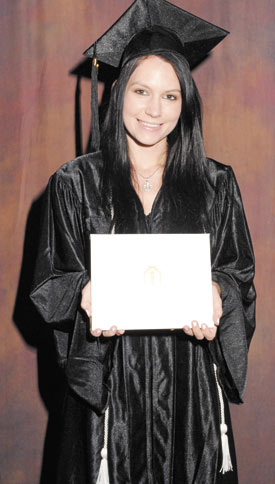 Nicole Mingie, daughter of Chris and Bob Mingie, was recently graduated from Arizona Agribusiness and Equine Center, Inc. (AAEC High School). Remarkably, she was simultaneously graduated from Paradise Valley Community College having earned three Associate degrees: AA at 16 (Junior Year) and ABUS and AGEN at 17 (Senior Year).

There's more. Nicole is an Honors grad. She received a Presidents Education Award for Outstanding Academic Excellence for a GPA of 3.79 at AAEC and High Distinction for a 3.8 G.P.A. and 98 credits at PVCC.

When asked, Nicole said the biggest challenge was scheduling classes between two schools. Her mom helped her maximize the required courses for both high school and college degrees.
Highly motivated, she volunteered at the Desert Foothills Library during her sophomore and junior years. For her Senior Project, she and Grace Nasr volunteered together to coach young people to prepare for and compete during the Special Olympics Golf Tournament Regionals.

Nicole works 20 plus hours a week in the restaurant field and she earned her Black Belt during this time as well.

In the fall Nicole will start her junior year at NAU. She could graduate with a Bachelor in Business degree at the age of 19.

How did she turn 6 years of school into 4 years? Her advice is to "Stay with it – trusting it will work out and benefit you!"

Way to go, Nicole!