BY MARIELLE D. MARNE | JULY 4, 2012
Chill out this summer with Penguin Air
What sets Penguin Air Home AC and Heating Services apart from other companies? Owners Wade Rusk and Will Hallett say they hesitate to be cliché, but "it's the people we hire. They are all experienced. They are, quite frankly, the cream of the crop." The business partners go so far as to hold weekly training meetings, so when a Penguin Air professional comes to your door, you know he's not a novice.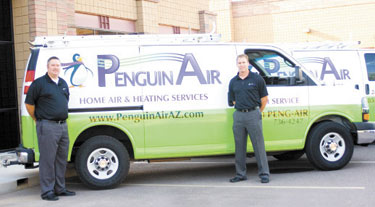 Hallett and Rusk have a combined 25 years in the industry, thus they know it counts to be reliable, honest, transparent and competitive with their bids. They offer installation, maintenance and repair on all types of AC/heating units, and they are happy to give recommendations if a customer doesn't have a brand in mind. The average lifespan for air conditioners is 14 years, and one of the best things homeowners can do to keep them functioning is an annual tune-up. Penguin Air is offering a $29 tune, so schedule before the real heat hits to assure your unit is in good working order. Go online at penguinairaz.com for their additional tips blog. Hallett and Rusk agree that using the inexpensive, flexible filters and changing them monthly also helps your AC run optimally.

Penguin Air is well-connected in the cyberworld, so join them on Facebook, Twitter, LinkedIn and read their favorable reviews on Google+. The BBB has even rewarded their excellence with an A rating.

Call Penguin Air for details at 480-422-9559. You can tell them their mascot Waddles sent you!
BY MARIELLE D. MARNE | JULY 4, 2012
Exciting hoppenings at the Horny Toad this summer
CAVE CREEK – It's 37 years and counting for the Horny Toad Restaurant and the staff invites friends and neighbors to join them for a Fourth of July celebration. The special of the day will be steak, a salad, fixin's and a discounted price. Be sure to ask about summer-long refreshing drink specials. Since the heat has arrived, the chef is delving into lighter fare. Join The Horny Toad now on Facebook and keep up-to-date on events.


Of note is a temporary closing from July 9 through 19. As owner Jeff Price explained, "It will be for employee vacations, maintenance and repair." So when business resumes as usual on Fri. July 20 expect to see resurfaced tables along with a shinier bar. Floors will be re-stained, too. It's this attention to excellence both in and out of the kitchen that keeps the Horny Toad earning an A rating with the health department.

Price prides himself on offering a family-feel eatery. He said, as always, his strong suit is his staff. "My management team has been with me forever. The wait staff makes this place."
He continues to lend his support to the community, recently donating $1,000 from auction proceeds to the Foothills Food Bank. Price is also a huge proponent of area schools.

Whether it's for education, the food bank or fellow friends and neighbors, Price added, "We'll always cater to the locals. When the tourists are here, it's just icing on the cake."

If you've somehow not yet been there, visit the Horny Toad at 6738 E. Cave Creek Rd. Call 480-488-9542 or see their website, thehornytoad.com, for hours.
BY MARIELLE D. MARNE | JULY 4, 2012
Happy Harry's will delight with clean cars, friendly service, overall excellence
CAVE CREEK – There's a lot to be said for convenience, and at Happy Harry's Car Wash, that concept is the foundation of every aspect of the business. Steve Harry started the venture in Illinois, then branched out to Phoenix in 1988. Now, he and his daughters, Kim and Julia, operate the Chevron gas station, car wash, convenience store and oil change/general auto maintenance facility at the corner of Cave Creek Rd. and Tatum Blvd.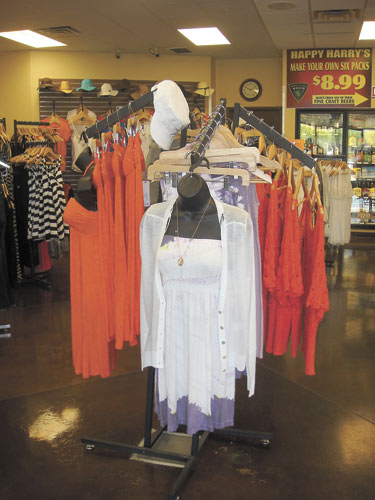 You'll likely not find another convenience store like it. Nor will you guess their top sellers!

Women's clothing and accessories. Yes, customers will find the unexpected along with the usual. Snacks, fountain drinks, donuts, auto accessories, propane, wine, wine glasses and candles, beer (six packs made up in-house so savings are passed on to patrons!). Have a suggestion? Pass it along to management and you may find it stocked. "We're even open to consignment vendors," Julia added.

Check out the specials on happyharryscarwash.com. One to note is a $4.99 Tuesday Madness exterior wash. Service is usually swift, so while you wait, treat yourself to pizza and a slushie and enjoy the family feel at Happy Harry's.

Once you've had a chance to shop there, you'll understand why 90 percent of the customers are regulars. You'll also see firsthand why the employees are long-tenured. Having opened in June 2003, Happy Harry's just celebrated an anniversary. The team feels blessed for their success and maintains an enviable relationship with the community; they shop local, support area schools and charities and each literally calls Cave Creek home.

Stop by Happy Harry's Car Wash at 29650 N. Tatum Blvd. or call 480-513-7200 for the countless ways they can benefit you!