JUNE 20, 2012
I'm how old in dog years?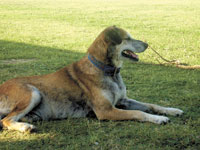 We hear it every day, "Oh, he's too old to clean his teeth." Or, "If she were younger, we would do that surgery." This is like finger nails on a chalkboard to a veterinarian.

Sure, we all age and we know our pets age faster than we do, but you must remember ...
Old Age Is Not A Disease! Would you tell your 86 year old mother she is too old for a medical procedure, even if she was in reasonable health?

An assessment of your pet's health should be done on an annual basis. The older they become, the need becomes especially important. A pet without significant organ dysfunction, even at the age of 16 or more, is still a safe anesthetic candidate. In fact, doing annual teeth cleaning will help your family pet live even longer.

Preventive care and annual screening will keep your senior pet in tip top shape and able to enjoy many years to come. Don't wait until you notice your pet is not well. Start with the basics. Visit your veterinarian. Request the necessary laboratory tests based upon your pet's age. Form a long term plan with your family veterinary medical doctor to keep your pet healthy. Feed a quality food and don't allow them to become overweight. Your pet is part of your family, so include them in your daily routine and don't let them lose interest in staying active. If they slow down with activity, there is a reason. Talk with your veterinarian. For example, for arthritis, there are many pain medications that your pet will benefit from to keep them in play!

Last but not least, honor the years that you have spent with your four legged friend. The term "Unconditional Love" is not just a term. It is a reality that they have lived their entire life, and you have been the center of their world.

Animal Hospital at Terravita is located at 34462 N. Scottsdale Rd, Suite B-1, in the Terravita Marketplace, Scottsdale. Stop in or call 480-575-8347.
JUNE 20, 2012
Triple R Horse Rescue horses available for adoption!
Destiny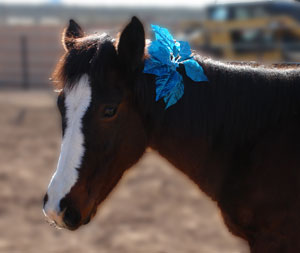 Destiny is a 15 month old filly that has had a a painful past and the best care possible. Destiny was born right here in the foster care of the Triple R, but she had a Parrot mouth and could not graze. She went through a surgery and a very long 6 month recovery that was not so easy on this little girl. Fully recovered now and her parrot mouth is completely fixed! She is a little Gem that LOVES people, loves water, is good with other horses and COWS! Destiny needs some work with her head as she was in so much pain. Loves to have her face rubbed and LOVES a bath! She loads, Baths, round pens, blankets, and more. She loves Carrots and kisses and is definitely a performance horse, If you want an athletic or a working horse come a meet this little pistol!

To meet Destiny please call Ken Bacher at 602-317-6176
Ginger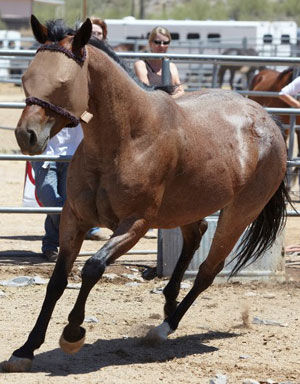 Ginger is a 8 year old Red Roan Mare is off the range in RIO Verde. For the first 7 years of Gingers life she had to fight for food and scrounge for every drop of water. Well this girl has taken quite nicely to the cushier life with our foster! She loves her stall and loves to take afternoon naps. She will do anything for a treat and even snores! If you happen to catch her sleeping she doesn't mind if you come in and join her! She loves to lay her head on your lap and toil away the afternoon just cuddling. Ginger does well with other horses and can revert back to herd ways with too many horses. Ginger halters, loads, blankets, round pens and although not officially ridden yet she has been saddled and "sat on" bareback. Teeth have been done recently. This girl needs love, understanding and compassion. With the right owner she will follow you anywhere.

If you are the love of Ginger's life please call Ken Bacher at 602-317-6176
JUNE 20, 2012
Take Your Dog To Work Day® on June 22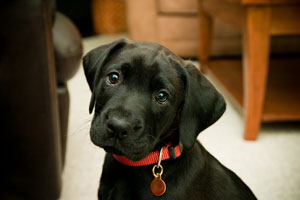 KING, N.C. – A recent study released by Virginia Commonwealth University touts the benefits of dogs in the workplace, citing reduced perceived stress and increased job satisfaction for employees with their dogs at work. Businesses across the United States and abroad will experience these benefits firsthand – and promote the urgent need for pet adoptions – on Friday, June 22, as they participate in the 14th annual celebration of Take Your Dog To Work Day (TYDTWDay®) created by Pet Sitters International (PSI).
Since TYDTWDay's inception in 1999, companies have increasingly embraced the event, allowing employees to bring their dogs to work for this fun summer Friday to support a good cause. Last summer, more than 100,000 visitors explored the official event Website, takeyourdog.com, seeking ways to participate.

The 2012 campaign calls on companies to help adoptable dogs find forever homes, where they can fulfill their work as best friends, stress relievers, exercise partners and more.
"TYDTWDay adds an enjoyable and positive twist to two issues of great importance – the benefits of pet companionship and the dire need for increased pet adoptions," PSI President Patti Moran said.

Partnering to promote this year's campaign are Adopt-A-Pet.com, Dog Fancy magazine, the Association of Pet Dog Trainers (APDT) and Fourlegglife.com, creator of National Dog Party Day.

Companies that may be closed on Fridays or that wish to include other pets in the celebration are encouraged to participate any day during Take Your Pet To Work Week™, June 18-22.

PSI and its 2012 campaign partners encourage businesses, shelters and pet lovers interested in celebrating TYDTWDay to visit takeyourdog.com to register support, download a free 2012 TYDTWDay Action Pack and enter the official 2012 TYDTWDay Photo Contest. Site visitors can also search for local adoptable pets. To learn more about event creator PSI, visit petsit.com.