JUNE 20, 2012
Celebrate Independence Day Cave Creek style July 3rd and 4th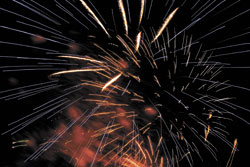 CAVE CREEK – Celebrate Independence Day Cave Creek style! The spectacular "3rd of July" Fireworks Display takes place at sunset on Tuesday behind Harold's Corral, 6895 E. Cave Creek Road.

The "4th of July" Fireworks Display will be Wednesday at dusk on the Kite property, northwest of the intersection of Cave Creek and School House Roads, near Cave Creek Smokehouse, 6245 E. Cave Creek Road, in Frontier Town.

The fireworks are safely shot off with the help of Rural/Metro.

For more information about July 3rd and July 4th events, specials, live music and more please explore the Patriotic Pride supplement in this issue. Patriotic Pride honors our Heroes – active duty service men and women, veterans, those who made the ultimate sacrifice and their families.