BY LINDA BENTLEY | JUNE 13, 2012
Wilcox uses county resources to push race-based personal agenda
Frankowski said he was "floored" that Wilcox would promote her personal business during a county function
PHOENIX – Last Wednesday, Sonoran News received an e-mail from Richard de Uriarte, communications manager for the Maricopa County Board of Supervisors, forwarding an e-mail with the subject line: "Black-Brown Coalition asks for ethnic studies reinstatement."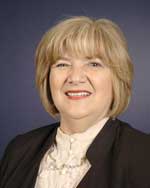 The e-mail forwarded two attached documents, one of which was from Terri Leija, from the Office of Supervisor Mary Rose Wilcox (l), dated June 13, stating: "Maricopa County Supervisor Mary Rose Wilcox, a co-chairman of the Black/Brown Coalition of Arizona, has co-signed a letter asking the Tucson Unified School District to reinstate its Mexican American Studies Program."

Leija attached the letter sent to TUSD Board President Mark Stegman, which was also signed by Rev. Warren Stewart of the First Institutional Baptist Church in Phoenix, who is co-chairman of the Black/Brown Coalition.

The letter, which is on Black/Brown Coalition letterhead, claims the coalition is "an Arizona organization comprised of advocacy groups and is dedicated to the dignity and equal treatment for all people. Among our greatest concerns is the quality of education in our public schools and insuring that students of every background have access to the best schooling possible."

The letter goes on to say, "We are alarmed at what we have seen regarding TUSD's elimination of its Mexican American Studies Program. We are aware of the Post-Unitary Status Plan adopted by the U.S. District Court for the District of Arizona which requires the teaching of Mexican American Studies courses, part of the court's legal remedy to close the achievement gap between Latino and white students."

The TUSD governing board eliminated what it previously called its "Raza (Race) Studies" program after it was determined the program was in violation of HB 2281, which prohibits courses and classes that "1. promote the overthrow of the United States government; 2. promote resentment toward a race or class of people; 3. are designed primarily for pupils of a particular ethnic group; and 4. advocate ethnic solidarity instead of the treatment of pupils as individuals."

TUSD was found to be in violation of sections 2-4.

The Post-Unitary Status Plan (PUSP), to which Wilcox and Stewart refer, is a 52-page document adopted by the TUSD governing board in July 2009.

TUSD has been under court supervision for approximately 30 years with regard to desegregation and the PUSP was adopted to address the district's responsibilities associated with successfully serving all students without court supervision and to ensure personalized success for each student, while TUSD manifests principles of equal protection and equal opportunity in the delivery of education to its students.

The section titled "Background" states Tucson Unified School District believes quality education is most effective in a diverse setting. and such diversity includes socioeconomic status, gender, race/ethnicity and English Language Learner status. The district recognized the PUSP to be an element of its broader commitment to diversity, stating a key educational benefit associated with diversity is improved achievement for all students.

Some of the other educational benefits included: Students are better prepared to live and work in an increasingly diverse world, they engage in deeper and richer class discussions and debates, parents are more likely to be involved in school because they feel valued, and students will learn about and appreciate cultures other than their own.

The document goes on to address school choice options, magnet schools/ programs and open enrollment with the belief school choice with transportation will promote and improve ethnic/racial diversity as one of the expected outcomes.

Under the PUSP's Mexican American Studies Department Action Plan, it states: "The Mexican American Studies Department will be expanded at the middle and high school levels to more adequately meet the needs of the student population, as the budget permits."

It also states, "The Mexican American Studies course capacity established by 2010–2011 course expansions will be maintained and expanded as requested by students each year."

At the 12th grade level, TUSD was mandated through the PUSP to offer as an elective course, "American government/social justice education" at three of its high schools.

However, the curriculum offered by TUSD's Mexican American Studies program was one that Arizona Education Superintendent John Huppenthal determined promoted ethnic chauvinism, outraging taxpayers who brought the curriculum, which included textbooks that called for the killing of white people, to his office's attention.

The curriculum was found to be in violation of HB 2281 and rather than TUSD losing 10 percent of its state funding, as the law provides, the board voted to eliminate the racist program.

Wilcox, however, sees that decision differently.

She wrote, "Turning a blind eye to a federal court order, and rather than respect the truth and oppose Huppenthal's contrivance that TUSD violated state law, the TUSD governing board caved – thereby betraying its students."

Wilcox concluded the "unmistakable" message sent to the district's Latino students, whom she claims represent over 60 percent of TUSD students, is, "Your history and worth as a people are meaningless, and we will tell you what to think."

The letter ends with, "It is imperative that you bring an end to TUSD's experiment with mind control. For the benefit of all your students, reinstate all Mexican American Studies courses without delay."

TUSD could bring back the Mexican American Studies program at any time, although it would be at the expense of a 10 percent reduction in district-wide funding.

Instead, the district decided to eliminate the noncompliant, racist curriculum so as not to shortchange funding in core subjects.

The biggest problem with Wilcox's letter though is the fact that she used county resources and personnel to disseminate her organization's views, which have absolutely nothing to do with her duties as a Maricopa County Supervisor.

It's not the first time she's used her position and county resources to advance her political or personal agendas.

Paul Frankowski, who worked for a mechanical contractor on the recently completed downtown court tower project, stated Mary Rose Wilcox would stop work on the project to call a press conference to announce to all the workers how well they were doing, how it was on budget and what a great safety record they had.

According to Frankowski, Wilcox would then proceed to tell the workers that they all needed to eat at her Mexican restaurant, just across the tracks, south of the project.

Frankowski said he was "floored" that Wilcox would promote her personal business during a county function.

As Communications Manager de Uriarte, who has taught media ethics and diversity issues at the Walter Cronkite School of Journalism at ASU, should know a little something about government ethics as well.