JUNE 20, 2012
DFT Gecko Teatro
TWO NEW camps are filling up – but space still available.
Registration is NOW OPEN!
It's that time of year – Summer Camp time!

We are so very excited to be able to offer our advanced performing camp (see below) directed by Sara Bernstein with music direction by Shara-Dawn Chambers.
Our Summer Film Camp is a "go" and still has room for about 8 more people. You will be working on the development of a short film including script writing, green-screen work, editing and more.

Summer Film Camp
Lights, camera, action! Have you ever wondered what it was like to make a film? Or, have you made a film and want to learn more about the art of filmmaking? Now is your opportunity to take part in a two week film camp that will help you to write, produce, dir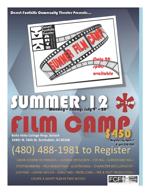 ect and star in your own film! What you will learn: Green Screen techniques, camera operation, editing, screenwriting, storyboarding, film budgeting, auditioning, character development, and lighting, sound design, directing, producing, pre and post-production. At the end of camp you will go home with a completed short film that you created! Instructors Anna Paris and Joe Rochel collectively have over 20 years of film expertise to offer. They will help guide your team from the beginning, middle to end process of how to make a film. All of the completed films will be screened at an end of the summer party! Come out and join us, and be a part of our creative community of film makers.

Camp registration is open to 3rd-12th graders.
Dates: July 9 – 20 from 9 a.m. – 3 p.m.
Location: Bella Vista College Preparatory School
33401 N. 56th St. Scottsdale, AZ 85266
Cost: $450
Limited Spaces Available.
Minimum registration already achieved so camp is confirmed.

Advanced Performance Camp!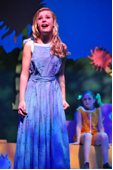 Strut your stuff!!! Love to perform? Then this camp is for you. We will be developing a program that we can tour throughout the valley. This group will be the promotional group representing Desert Foothills Theater at a variety of events throughout the valley.
Work with our fabulous director, Sara Bernstein and learn a holiday show. Once you complete the camp, you will be an official member of Singular Sensation and will continue to rehearse once a week throughout the year!
In future years, participation by new members in this program will be audition only. Get in on the ground floor and become the "face" of DFT.

Dates: July 23-27 from 9 a.m. – 4 p.m.
Location: TBD
Cost: $190
Director: Sara Bernstein
Only 25 spots available!
For more information visit www.desertfoothillstheater.com/dftcopaclassdescriptions.htm#summercamp.