JUNE 13, 2012
Patriot Dayz!
"Hear ye! Hear ye! The Horses of Tierra Madre have declared that the period of time from June 12 - July 4th, 2012 shall be known as 'PATRIOT DAYZ'!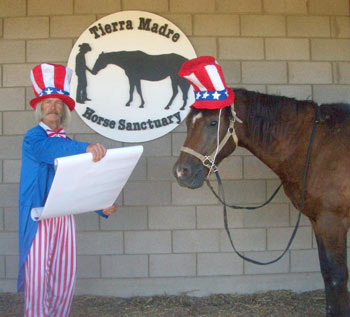 "Each & every one of them is striving mightily to be declared the most patriotic horse on the ranch. So, each day, the horse that receives the most donations on that day will get to wear the Uncle Sam hat all the following day (as Venture is doing - handsomely - in the photo).

"This is an all-American competition for all it's worth! So, help your favorite horse to show the colors - on his or her head!

"Go to our website. Then, email us at tierramadrehorsesanctuary@live.com telling us which horse you're supporting for that particular day.

And watch Facebook - every day - to see if YOUR horse is wearing the hat! Remember, get your daily entries in by 11:59 p.m./MST.

"All hail PATRIOT DAYZ and the Horses of Tierra Madre!"

TIERRA MADRE HORSE SANCTUARY
27115 N. 45th St., Cave Creek, AZ 85331
480.747.1070
A 501(c)(3) Non-Profit Organization
EIN 61-1544459
www.tierramadrehorsesanctuary.org
JUNE 13, 2012
Horse Sense: Quarter Horses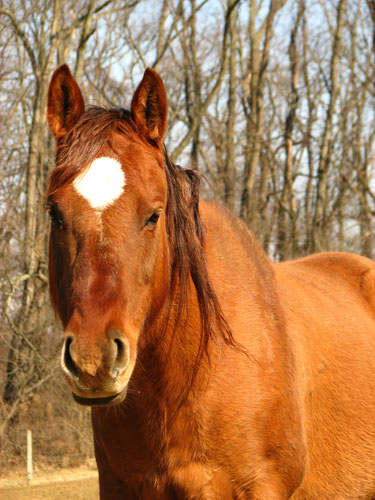 History: Quarter horses come from a combination of mustang, Arab, Spanish Barb and Morgan blood. They were named the Quarter horse because they are blindingly fast at a quarter of a mile. Ranchers bred them because they wanted an intelligent, fast, agile, versatile mount. The American Quarter Horse Association, or AQHA, was started in the early 1940s.

Characteristics: There are three distinct types of Quarter horses: the "bulldog" type, which tends to be the smallest and the most muscular; the Thoroughbred type, which is taller and leaner; and the in-between type, which has characteristics from both types. All Quarter horses have a fine head with small, fox-like ears and a broad forehead. Their backs are strong with good withers and a sloping croup. The heart girth is deep and the legs are quite short and strong. Quarter horses are famous for their exceptionally powerful hindquarters. The Quarter Horse comes in any solid color. The average height of a foundation Quarter horse is between 14 and 15 hands; the average height of a Quarter horse with Thoroughbred blood is anywhere from 15 to 16 hands. Quarter horses are very laid-back, reliable and willing. They are intelligent and sensible.

Uses: Quarter horses are a very versatile breed, doing everything from team penning to jumping. Quarter horses are known to have good cow instincts and so are often the breed of choice for competitive roping, cattle-penning and ranch work. They make great reining horses as well because of their strong hindquarters. They are quick and agile and have good stamina. They also make exceptional barrel horses. Because they are so laid-back, they make great trail horses.

Fun Facts:
1. The Quarter Horse was first bred in Virginia in the 1600s
2. Wimpy, the first registered Quarter Horse, was born in the 1930s and sired over 150 foals!!! He was a chestnut colored stallion, with a star and a sock on his left hind leg. When fully grown, he was 15 hands high and weighed about 1200 pounds

Did You Know? A horse's heart weighs an amazing 10 pounds!