JUNE 13, 2012
Stepping Stones of Hope offers Bereavement Camp for Teens – June 15-17, 2012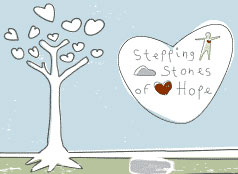 Stepping Stones of Hope, an Arizona based non-profit organization, provides weekend programs for families grieving the loss of someone close to them. These programs are designed to create a safe place for families to come together and share their experience.

Camp Erin™ Phoenix will be held June 15-17 at Spirit in the Desert Retreat Center in Carefree. This weekend long camp program is designed specifically for teens, ages 13-17, experiencing the death of someone close to them. This traditional camp experience incorporates grief education, emotional support and addresses the needs of grieving teens by teaching them healthy ways to cope with grief and memorialize their loss.

Created and funded by The Moyer Foundation, Camp Erin includes lodging, food, activities and take-home items. Transportation is self provided.

The Moyer Foundation is a public, 501 (c)(3) organization with offices located in Philadelphia, Pennsylvania and Seattle, Washington. The organization was founded in 2000 by World Series champion pitcher, Jamie Moyer and his wife, Karen. The Foundation's mission is to empower children in distress and with the community's support, creates and funds programs to give children the tools and skills to overcome life's greatest challenges. Camp Erin is The Moyer Foundation's furthest reaching initiative and the largest network of free bereavement camps in country. Camp Erin serves more than 2,500 children annually through nearly 40 camps nationwide including a camp location in every Major League Baseball city.

Each camp is facilitated through a long term partnership with a local healthcare or bereavement support agency. Together, these organizations and The Moyer Foundation raise funds to help bring the healing experience of Camp Erin to children in more communities each year.

Stepping Stone of Hope is dedicated to providing comprehensive support-based programs, continuing care and education to grieving children, families, adults and communities.

Space is available for teens ages 13-17. For more information or an application for a teen to attend, register online at www.steppingstonesofhope.org or contact Diane Raden at 602.264.7520 or dianer@steppingstonesofhope.org.

For more information on The Moyer Foundation, visit www.moyerfoundation.org or call 206.298.1217.