BY LINDA BENTLEY | JUNE 13, 2012
Arpaio and CCP submit affidavits to support allegations in Florida case
Indiana eligibility challenge dismissed, SCOTUS declines review of Ninth Circuit opinion
On Tuesday, Attorney Larry Klayman (r), representing Mike Voeltz, announced Maricopa County Sheriff Joe Arpaio (below) and his Cold Case Posse have submitted sworn affidavits supporting allegations of document fraud cited in his client's ballot eligibility challenge against Barack Obama in Florida.

Oral arguments in the case are scheduled before Leon County Judge Terry Lewis on Monday, June 18.

Lewis is known for his rulings in the Bush vs. Gore 2000 election challenge.

Previous allegations of document fraud in other cases have been knocked down on the basis witnesses lacked credibility to testify.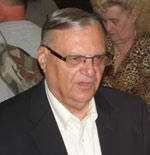 Affidavits from a law enforcement agency should have no problem meeting that credibility bar.

And, while Voeltz's brief cites case law in which the term "natural born citizen" is defined as the child of two American citizens, Lewis let Obama's legal team know it has failed to support its contention the term means something different.

Klayman's work is supported through donations to the Constitution Action Fund, which has been supporting legal action to prevent constitutionally ineligible presidential candidates from appearing on state ballots for the 2012 election.

Also on Tuesday, Dr. Orly Taitz's ballot challenge against Obama in Indiana was dismissed.

From sketchy accounts of what transpired in the courtroom, where Taitz, who is not admitted to practice law in Indiana, was challenging Obama's eligibility as one of five pro se plaintiffs and the case appears to have been dismissed on grounds the court lacked jurisdiction over the matter.

Meanwhile, the U.S. Supreme Court has declined review of an appeal brought by Alan Keyes, Wiley Drake and Markham Robinson, challenging Obama's natural born citizenship and eligibility to serve as president and commander in chief.

The application for a writ of certiorari was brought after the Ninth Circuit Court of Appeals ruled the plaintiffs didn't have standing to sue.

The plaintiffs allege Obama was born in Kenya and the Hawaiian birth certificate he's produced is a forgery.

Keyes and Drake ran against Obama and Biden in the 2008 election as members of the American Independent Party, of which Robinson is chairman.