JUNE 6, 2012
Earnhardt Hyundai North Scottsdale turns test drives into best drives
Mark Rushford General Manager of Arizona's #1 Equus dealer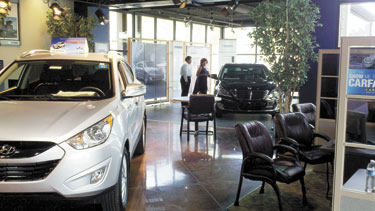 SCOTTSDALE – Mark Rushford was appointed the General Manager of Earnhardt Hyundai North Scottsdale when the Earnhardt family purchased Discovery Hyundai in August of 2011.

Mark grew up in the Midwest and East Coast and has been a resident of Arizona for over 30 years. Mark is a 6 year employee of Earnhardt Auto Centers and had previously been the General Manager of Earnhardt Hyundai in Avondale.

He and his wife live in Cave Creek and have 3 children, ages 28, 27, and 18. Mark states, "My family motivates me and gives me the desire to succeed."

"Customer satisfaction is our top priority at Earnhardt Hyundai North Scottsdale. I have been in the automobile business since 1992 and Hyundai Motor Company by far manufactures the best vehicle I have ever sold," said Mark. "The vehicle seems to sell itself when the customer drives one. Currently Hyundai has among the most fuel efficient vehicles in America and truly has the best warranty of any manufacturer. I am so happy to serve the residents of the Northeast Valley and be able to offer them such a great product. Earnhardt Hyundai North Scottsdale is the #1 seller of the Equus and the Genesis, today's standard in affordable luxury.

"If you haven't seen the great products that Hyundai offers, I hope you will stop in Earnhardt Hyundai North Scottsdale. You'll be impressed with the great Hyundai vehicles, as well as the World Class service you will receive. I personally guarantee it," offered Mark.

Although you can visit www.northscottsdalehyundai.com and call 480-922-5200, your best bet is to stop by their showroom and take your favorite Hyundai for a test drive! They are located at 15350 N. Hayden Road in Scottsdale, south of E. Frank Lloyd Blvd.

Earnhardt Hyundai North Scottsdale is part of the Earnhardt family of dealerships, which was established in Arizona in 1951. Earnhardt's is the oldest family-owned and operated auto group in Arizona.
BY MARIELLE D. MARNE | JUNE 6, 2012
Blink ... Be Beautiful ... and younger looking!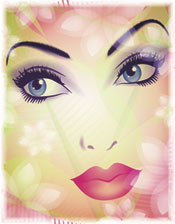 CAVE CREEK - Connie Eskelson continues to offer her sought-after permanent makeup as well as professional makeup application for those events where you need to look your best. However, the proprietress of Blink and Be Beautiful has branched out.

This year, Eskelson added an anti-aging treatment using microcurrent technology. It's one of the hottest techniques in the industry, and it has proven results. Eskelson said, "It plumps up the collagen and reduces the appearance of crow's feet, sagging jowls, even the furrows between the eyebrows." So clients can compare the difference, she does half the face at a time so you can see the immediate improvement.

For the ultimate skincare at home, Eskelson is a firm believer in Swiss-made Arbonne products. "Arbonne is organic and uses no chemicals. It feels and smells good. And it's cheaper than department store brands."

If you love Arbonne like Eskelson does, she explained, "There's earning opportunities for people who are interested." Give her a call to become a preferred Arbonne member, or following a Blink and Be Beautiful treatment, request a sample to try yourself.

Evelyn Albritton, one of Eskelson's permanent makeup clients and Arbonne fan, said she likes Arbonne because there are no fillers. As an aesthetician, she knows that's important. "You get what you pay for," Albritton added.

She's equally impressed with her permanent makeup. "Connie's a perfectionist, so you know it's done right." Given the time it takes to get ready in the morning, "All I have to do is put on mascara," and the money she's saved, "It's paid for itself in eyeliner, brow pencil and lipstick alone," Albritton urges women to give it a try.

Set up your appointment at 602-743-7309.
BY MARIELLE D. MARNE | JUNE 6, 2012
Elwood Motor Sports still has the drive to earn your automotive business

CAVE CREEK - The sentiment is simple behind Elwood Motor Sports: "We're here to help our customers as much as we can," owner Scott Barsellotti explained. That includes making arrangements for drop off and pickup outside of their normal 8:30 to 6 p.m. hours. Vehicles of all makes, models and years can be serviced; they've even repaired boats, jet skis and a golf cart! They go above and beyond because, Barsellotti offered, "We like to build relationships with our customers. We just don't want to see them one time."

To be more accommodating to distressed motorists, Elwood Motor Sports added towing services. They'll get you back to the shop and back on the road swiftly and courteously! And if you just can't get your car in for service, Barsellotti said they can do area pickup and delivery for scheduled maintenance as well. And, the staff is still very willing to deal with insurance companies when it comes to collision repair.

Barsellotti is pleased with his first year at this location and he's impressed how the town of Cave Creek has welcomed his automotive business. As thanks in return, he's a sponsor at Cactus Shadows High School and helps out MCSO posse members with their vehicles.

At Elwood Motors, you no doubt get professional, guaranteed work, but you're also assured a friendly, non-intimidating environment. Questions are encouraged and answered honestly, and you'll never receive an exorbitant bill with unauthorized work. Barsellotti is aware people don't like surprises, so he'll let you know if additional repairs are necessary before they're done. Yes, it's all about integrity.

Call for details at 480-575-6964. Elwood Motor Sports is located at 37608 N. Cave Creek Rd.