MAY 30, 2012
Obituary
David Carl Willer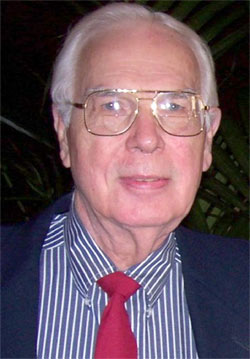 David Carl Willer, our beloved husband, adored father and cherished grandfather, was welcomed into the arms of the Heavenly Father on May 9, 2012. A man of great integrity, David will always be remembered for his kindness, generosity and optimism.

Born in Sioux City, Iowa, on April 19, 1929, to Henry and Sylvia Willer, David attended the University of Iowa and received a bachelor's degree in civil engineering. David met the lovely Irene Davis on a blind date and they married in 1951, the same day he was commissioned as an officer in the Army Corps of Engineers. This June 8th would have been their 61st wedding anniversary.

David earned his master's degree in civil engineering from USC. He joined Tudor Engineering in 1966 and became vice president in 1980. He specialized in hydrology and the design of hydroelectric plants. His career led to working on numerous projects worldwide and throughout the western United States. He was invited to the White House by President Jimmy Carter to be thanked for work on developing the Electrical Regulatory Practice Act. He was invited to Berlin, Germany, as a delegate from the United States to the first world conference on renewable energy.

David and Irene loved to travel. They moved to Sonoma in 1993 to share the lives of their three grandchildren. David served as a board member for Valley of the Moon Water District from 1997 to 2002.

David is survived by his wife, Irene; his sister, Marilyn Miller (and Chuck), of Cupertino; his brother, Vern Willer, of Cave Creek, Ariz.; his children, Vicki (and Gary) DeSmet, of Sonoma; Beth Willer, of Concord, and Reese Willer, of San Jose; and his grandchildren, Sarah, David and Anna DeSmet. He is preceded in death by his brother, Wayne Willer, also of Cave Creek; and two children, a baby girl, in 1954, and Bradford Van Willer, in 1959, who died of leukemia at age 7.

A committal service and military honors were conducted at the Sonoma Veterans Cemetery on May 15. A memorial service will be held Saturday, June 2, at 2 p.m. at St. Andrew Presbyterian Church, 16290 Arnold Drive in Sonoma.