BY LINDA BENTLEY | MAY 30, 2012
CCUSD93 considers charter conversion without financial analysis
The district-sponsored charter schools will have the same teachers, curriculum, administration and governing board
CCUSD93 – The school district has been holding numerous meetings to sell the idea of converting as many schools as the law will allow to district-sponsored charter schools.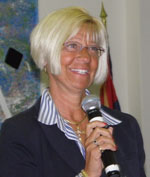 Superintendent Debbi Burdick (l) presented the governing board with her "Frequently Asked Questions" (FAQ) presentation during the May 22 meeting, but did not detail how converting to district-sponsored charter schools would impact the district financially.

Statute requires a public school option for every grade level in the district so the maximum number of schools CCUSD93 can convert to charter schools is four, precisely what it is proposing, leaving Black Mountain Elementary School as its public elementary school along with Cactus Shadows High School and Desert Arroyo Middle School.

If the district goes ahead with the conversion, it would receive an additional $1,500 per new student enrolled in the four elementary schools for the 2012-2013 school year and then additional assistance for all students for the 2013-2014 school year.

The district-sponsored charter schools would fall under the district's policies and oversight of the CCUSD93 governing board.

In her FAQ presentation, reasons given for converting to charters include: Charter schools allow parents more choice for their children; the Arizona State Legislature advocates for market-driven schools, which charters are considered; CCUSD93 is proposing to do what the legislature advocates; public school funding has become a critical statewide issue; charters have a different funding structure which may be advantageous at this time; and funding is "real time" versus delayed by a year.

In reality, the district will not be providing choices. The district-sponsored charter schools will have the same teachers, curriculum, administration and governing board.

And, with another projected downturn in enrollment for the 2011-2012 school year, the district would be relatively unaffected by additional funding for new students in real time.

The disadvantages of converting to charter schools enumerated in Burdick's presentation include: Charter schools are not eligible for bond or override elections; they may not use or receive Arizona School Facilities Board funds, transportation (busing) revenue funding; soft capital or unrestricted capital funding; there would be an increased workload for finance, payroll, human resources, accounts payable, grants management and other departments; and charter schools do not receive state funding for developmental preschools.

Only five of Arizona's 227 school districts have district-sponsored charter schools, including Vail with four, and Payson, Fort Thomas, Casa Grande Union and Benson with one each.
Once a public school is converted to a charter school, it can only revert back to a public school if all the additional assistance money received by the charter is returned.

The cuts that have already occurred, such as all-day kindergarten, would not change by converting to charters.

According to Burdick, charter school employees will receive the same employment contracts and be eligible to participate in the Arizona Retirement System, health insurance and other benefits as non-charter employees.

Although the presentation did not include what the net financial impact would be, after taking the additional funding into consideration, the proposal is being brought back to the governing board for a vote on June 12.

If approved by the board, the resolution to charter four elementary schools would be sent to the Arizona Department of Education before June 30 and become effective July 1, 2012.

Why the rush?

Burdick's FAQ states, "The legislature is forcing public schools to seek alternative funding and provide choices for students."

The funding for charter schools is still taxpayer money and the choices for students will remain stagnant.

So far, the feedback we've been receiving from parents in the district has been short of positive.