MAY 30, 2012
Frank Lloyd Wright's vision for an Arizona State Capitol
PHOENIX – Noted Arizona journalist, Lloyd Clark, will share memories of his February 1957 interview with Frank Lloyd Wright Thursday, June 14, 2012 at noon at the Arizona Capitol Museum to open a special long-term exhibit "OASIS RETURNS: Frank Lloyd Wright's Vision for an Arizona State Capitol."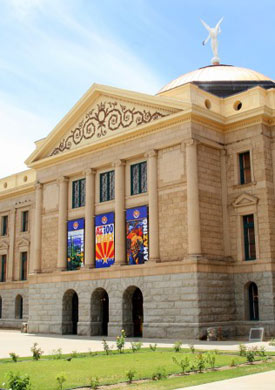 While being interviewed by Clark, Wright spontaneously drew two sketches for an inspiring new Arizona State Capitol. The final design was called "OASIS." Along with the sketches made during the interview, the Frank Lloyd Wright Archives have loaned a 9 foot by 12 foot OASIS model and a series of OASIS digital prints created from the original drawings for the long-term exhibit.

This is not OASIS' first trip to the Museum. In 1990 Governor Rose Mofford proclaimed a celebration of Wright's architecture and Arizona's heritage, as part of the commemoration OASIS was on display.

To set the mood for this special event, Joyce B. Buekers, Founder and Executive Director, of the Harp Foundation will provide music before and after the program. The Harp Foundation provides hours of therapeutic harp music to individuals and their families in the Greater Phoenix area and throughout Maricopa County.

Entry into the Museum is free. For more information visit the Arizona Capitol Museum online at www.lib.az.us/museum or call (602) 926-3620. Free parking for Museum guests is available in Wesley Bolin Plaza at 17th Avenue and Washington Street.

Operating hours are Monday through Friday, 9 a.m. to 4 p.m. Guided group tours are available by reservation at: www.azlibrary.gov/museum/tourrequest.aspx.