BY LINDA BENTLEY | MAY 16, 2012
Strong-arm robbery at El Encanto spoils Mother's Day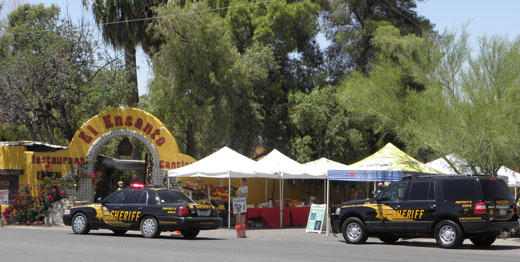 El Encanto Restaurant became the scene of a strong-arm robbery on Mother's Day, with the perpetrator making off with approximately $5,000. Photo by Linda Bentley


CAVE CREEK – At around noon on Mother's Day, as Christine Nelson, owner of El Encanto Restaurant, left the restaurant to make a bank drop she was strong-armed to the ground in the parking lot by a Hispanic male, who then made off with the bank bag containing approximately $5,000.

Maricopa County Sheriff's deputies set up a perimeter, while a helicopter scoured the area. However, no suspects were apprehended.

A witness said she saw two men on bicycles in the area that threw their bicycles into the back of a vehicle and then fled the area.

On Tuesday, Lt. Rich Burden said MCSO was still reviewing a neighboring business' surveillance video in hopes of gaining some leads but said, so far, it has not been productive.