BY LINDA BENTLEY | MAY 16, 2012
MCSO nabs pair connected to rash of home burglaries
The homeowner found their behavior suspicious, jotted down their license plate number and called the incident in to MCSO

CAVE CREEK – Maricopa County Sheriff's deputies picked up two suspects on May 9, whom Lt. Rich Burden says they've linked to at least seven burglaries and attempted burglaries in the area.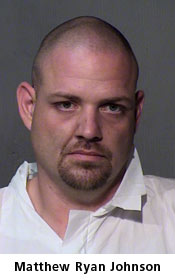 Matthew Ryan Johnson, 33, and Shane Blaylock-Walls, 29, were pulled over and taken into custody when the red Ford Escape they were driving matched the description and license called in by a woman who narrowly escaped becoming a burglary victim.

Blaylock-Walls was charged with one count of theft, two counts of burglary in the 2nd degree and driving on a suspended license, while Johnson was charged with theft, burglary in the second degree, dangerous drug violation and a drug paraphernalia violation.

Apparently Johnson and Blaylock-Walls were following a FedEx vehicle and watched as the driver rang the doorbell, which went unanswered, and left the package.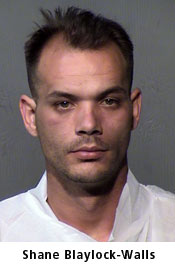 Johnson and Blaylock-Walls then went to the door, picked up the package and rang the doorbell.

However, this time the homeowner answered the door only to find Johnson and Blaylock-Walls standing there holding her FedEx package.

She asked them what they were doing with her package and they asked her if someone she never heard of was home.

They put her package down and left, but the homeowner found their behavior suspicious, jotted down their license plate number and called the incident in to MCSO.

About an hour later, a deputy noticed a red Escape in the vicinity of Cave Creek and New River roads and, after verifying the license plate, pulled it over.

He found Blaylock-Walls to be driving on a suspended license, while Johnson, the passenger, had an active arrest warrant from another municipality.

As they were being arrested, Johnson was found to be in possession of methamphetamine and had an inscribed pocket watch and five pawn tickets in his pocket.

As last Wednesday's storm blew in, MCSO became inundated with calls. However, one of those calls was to report a burglary, which MCSO responded to immediately.

The woman had just returned home from work to find her home had been burglarized and all her jewelry stolen.

The victim described a pocket watch among the missing jewelry, which she said was inscribed with her grandmother's name and the year 1836.

MCSO later learned it was the same pocket watch Johnson had in his possession at the time of his arrest.

Deputies also found a pillow case on the floorboards under the passenger seat of the Escape containing all the jewelry taken during that burglary.

A Carefree burglary victim said his neighbor witnessed a white, older model Chevy Suburban outside his home during that burglary.

According to Burden, Johnson and Blaylock-Walls also had access to an older model white Suburban, which they used to carry out other burglaries.

Burden said the two have been linked to the rash of burglaries in the area through evidence and were in possession of the remnants from three burglaries.

Blaylock-Walls has served time in the Arizona Department of Corrections (DOC) for theft of a means of transportation, a class 3 felony, in both Yavapai and Maricopa counties.

Blaylock-Walls' last stint at DOC was for seven years with his release in January 2010.

Johnson was arrested in 1999 for possession, growing and processing marijuana and possession of drug paraphernalia. The charges were dismissed by the prosecution in 2004.

He was arrested in 2005 for theft and possession of burglary tools.

Johnson entered into a plea agreement to a reduced theft charge and the possession of burglary tools charge was dismissed.

He was sentenced to probation for three years, which included 60 days in jail.

Johnson violated his probation in 2008 and the court imposed continuing his probation until December 2010.

According to Burden, the Escape belonged to Blaylock-Walls' ex-girlfriend, who was about to report the vehicle stolen.

Burden urges citizens to be cognizant of what's going on in their neighborhoods and report unusual activity.

The woman who reported suspicious behavior in this case helped MCSO take a couple of burglars off the street.