BY LINDA BENTLEY | MAY 9, 2012
Showdown on property tax comes to an end Tuesday
Campaign finance reports reveal few but interesting surprises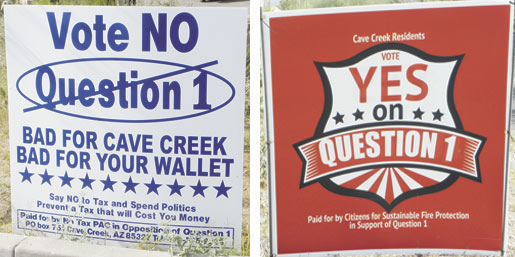 After having debated the subject for a decade or so, Creekers will finally lay the question of property tax for fire protection services to rest with their votes in the May 15 special election. Photos by Linda Bentley



CAVE CREEK – After both political action committees, the No Tax PAC (No Tax) and Citizens for Sustainable Fire Protection (Yes Tax) submitted their pre-election campaign finance reports for the May 15 election, there were few surprises.

Despite Yes Tax having carpeted the town with vastly more signs than No Tax, sent out more mailings and bombarded Creekers with a week of near nightly robo-calls, their pre-election campaign finance report reveals they received $1,345 less in contributions and spent $1,077 less than No Tax.

While that doesn't appear possible, it's all a matter of timing. And the pre-election campaign finance report, which was due on May 3, only covers the period ending April 25.

So, it appears the second barrage of "Vote Yes" signs, robo-calls and additional mailings were expenses incurred after that date, along with additional contributions to fund them.
Those contributions and expenditures won't be revealed until the post-election report, which isn't due until June 14, one month after the election.

One thing interesting about YES Tax is when Town Clerk Carrie Dyrek called the PAC on Thursday morning to remind them the pre-election report was due that day she was told it would be submitted in a timely manner.

Although Dyrek had to leave by 4:30 p.m., when town hall normally closes, Assistant Planner Marie Carsia and Barbara Allen, executive assistant to the town manager, kept town hall open until 5 p.m. for them.

However, no one ever showed up to turn in the Yes Tax report.

Instead, Yes Tax mailed its report, signed by Attorney Ken Gaskins, the PAC's treasurer, via certified mail on May 3, which Dyrek stated is considered a timely filing, despite it not being received until Monday, May 7.

However, the interesting part is it was mailed from the Cave Creek Post Office.

If not to delay the public's knowledge as to who supports the property tax, why else would someone spend money for a certified mailing from the Cave Creek Post Office when the report could have be dropped off just down the road at town hall for free, especially since both venues were open until 5 p.m.?

Gaskins, who is president of the Rancho Mañana HOA, was the largest single contributor to Yes Tax with $450.

Others supporting the property tax include Councilman Jim Bruce ($100), Planning Commission Chair Dan Baxley ($100), former Commissioner Bob Williams ($100) and Councilman Thomas McGuire ($200).

Of the $2,795 in contributions, $1,045 came from Rancho Mañana residents, with another $650 from residents in various other subdivisions, including Black Mountain Shadows, Desert Enclave and Estado De Cholla.

The most peculiar donation was $100 from Nancy Tribbensee, vice president and general counsel for the Arizona Board of Regents.

Tribbensee lives in La Tierra Prometida, a subdivision located in unincorporated Maricopa County just south of Cave Creek.

So, in addition to Yes Tax Chairman Rob Papineau, who doesn't own any property in Cave Creek or anywhere else in Maricopa County, and who donated $100 through his business ZRP Tools LLC, Tribbensee, a county island resident, has donated money to a PAC advocating a substantial property taxes increase for Cave Creek property owners.

The largest contributors to No Tax, which received $4,140 in donations from individuals and businesses throughout Cave Creek, were Joe and Barbara Podolak ($550), Rod and Carol Lynn de Szendeffy ($500) and Bob Kite ($400), all of whom own commercial property within the commercial town core.

The de Szendeffys, who live in Carefree, and Kite, who lives in Paradise Valley, can't vote on the matter.

Dana Gonder, owner of Wild West Pawn, who lives in the Rio Verde area and cannot vote, also contributed to No Tax while he is simultaneously fighting the formation of a fire district in his community.

No Tax contributors seem to include people at odds with one another on a variety of issues, but property tax, and their opposition to it, is a subject on which they apparently all agree.
Visit www.cavecreek.org to view the campaign finance reports online by following the election links.