BY LINDA BENTLEY | MAY 9, 2012
JT Ready's only 15 minutes of fame
Once it was discovered, Pearce and everyone else involved in the illegal immigration debate immediately distanced themselves from Ready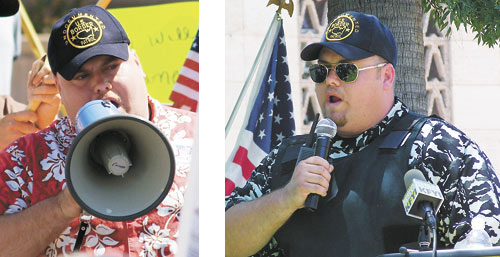 Jason Todd "JT" Ready is pictured speaking at rallies protesting illegal immigration in July 2005 and April 2006 at the Arizona State Capitol and the Mexican Embassy in Phoenix before anyone was aware of his connections to neo-Nazi and white supremacist organizations. Photos by Linda Bentley


GILBERT – Only minutes after news reports surfaced about Jason Todd "JT" Ready, 39, being implicated as the gunman in a murder/suicide last Wednesday that took the lives of his girlfriend Lisa Mederos, 47, her daughter Amber Mederos, 23, Amber's 16-month-old daughter Lilly and her 24-year-old boyfriend Jim Hiott, before turning the gun on himself, Ready's Facebook page administrator claimed the murders were the result of a drug cartel hit.

However, according to Gilbert Police Sgt. Bill Balafas, the incident is believed to be a domestic violence situation.

According to Balafas, a domestic dispute ensued inside the Gilbert home Ready shared with Mederos, which resulted in a 911 call.

Gilbert police announced shortly after the incident there was no reason to believe anyone else was involved and they were not searching for any suspects.

Balafas stated, "There was a 911 call regarding that argument. In the midst of that call, a shooting occurred. Mr. Ready shot and killed all four victims and then killed himself."

He did say they were awaiting confirmation through the medical examiner's report and ballistics tests.

Balafas also stated police responded to the Mederos home five times since 2009. However, there was not enough evidence to make an arrest and no charges were ever filed.

Sometime around 2005, when Ready first became a public figure in the illegal immigration debate, he appeared to be passionate and well informed on the issue. He was invited to speak at numerous rallies and, as Ready ran for various public offices, he sought and received support from a variety of people who opposed illegal immigration and supported border security, including former Senate President Russell Pearce.

It wasn't until perhaps a few years later, Ready revealed his anti-Semitic and white supremacist views through some e-mails and, while a precinct committeeman, he began passing out white supremacist literature at legislative district meetings.

During all the times Ready spoke at rallies, and Sonoran News covered just about all of them, he never uttered a word that would lead anyone to believe he was a white supremacist with ulterior motives.

However, once it was discovered, Pearce and everyone else involved in the illegal immigration debate immediately distanced themselves from Ready.

Some of the weaponry, police and FBI agents found in Ready's home, including hand grenades that civilians are prohibited from owning, indicate they may have been stolen from the military.

While Ready held himself out as a Marine, in 1996, he was court-martialed twice and subsequently received a bad conduct discharge, which is one rung above a dishonorable discharge.

Ready initially had a lot of people bamboozled into thinking he was a patriotic American who honorably served his country, but later proved himself to be an intolerant, white supremacist.