BY LINDA BENTLEY | APRIL 18, 2012
Town approves second reading of Bella Vista Loop and rezoning
Trail run draws nearly 400 participants, raises approximately $8,000
CAVE CREEK – During Monday's council meeting, Mayor Vincent Francia announced the ballot pamphlets were already in the mail and ballots for the May 15 special election would be mailed on April 19.

He also reminded citizens that U.S. Rep. David Schweikert, R-Ariz., currently representing Arizona's 5th Congressional District, will be a guest speaker at the May 21 council meeting.

Schweikert is running against Republican Rep. Ben Quayle, currently representing Arizona's 3rd Congressional District, in the newly drawn boundaries that form the 6th Congressional District.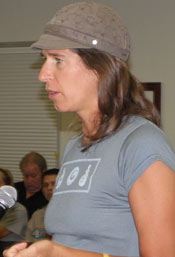 Korina Riggin (r) spoke during Call to the Public about the success of the trail run, which drew nearly 400 participants from all over the country and Canada and raised approximately $8,000.

She said they had over 60 volunteers from the area plus 15 Maricopa amateur ham radio volunteers who were able to provide communication from the trail, including calling for assistance when a woman broke her ankle on the trail, which Riggin stated was the only incident.

In communicating with many of the people who participated in the run, Riggin said many complained about how difficult it was to get around town without any walkways or means to walk from one point to another.

She said many also couldn't figure out where to park, so, instead of staying in town and spending their money after the run, they left.

Riggin urged the town to invest in infrastructure to make the town more pedestrian and visitor friendly.

With Councilman Dick Esser absent, council voted unanimously to approve the second reading of the ordinance to amend the town of Cave Creek zoning map by rezoning 19 parcels from Desert Rural to a combination of Town Core Commercial and Commercial Buffer.

The changes also involve the Bella Vista Road loop, which will create a new access road between Harold's and the Buffalo Chip from Cave Creek Road to Bella Vista Drive.
Francia asked if there were cost estimates for the new road.

Planning Director Ian Cordwell said they needed to first have a road design completed and stated they would try to get some of the materials donated to make the project as cost effective as possible.

Vice Mayor Ernie Bunch stated, "I think it's a great plan," and said it would fix some issues.

Council also voted unanimously to approve the first reading of an ordinance to amend the zoning map by rezoning a parcel at the southeast corner of Cave Creek and Olesen roads.

Applicant Chris Wilson requested a continuance last year to address access issues.

Associate Planner Luke Kautzman said the applicant has addressed those issues satisfactorily with access from the south of the property with a right turn in and out.

Councilwoman Shelley Anderson asked what the proposed use would be.

Kautzman indicated it was for a fast food restaurant.

Wilson said the owner was working with Walmart for access solutions, which he said was a long process, so the owner decided to go with a right in/right out.

When asked if there could be other uses for the property, Wilson stated it could but right now they were only asking for rezoning.

Bunch, who moved to approve the application, said, "It's not our business what they put there as long as it's legal."

Councilman Jim Bruce commented he didn't think right in/right out would work for a restaurant but that wasn't his business.

Bob Moore made an announcement at end of the meeting to say the Cave Creek Green Committee was holding an Earth Day event at the YMCA on 60th Street, just south of Carefree Highway, this Saturday from 10 a.m. to 3 p.m.

He said there would be approximately 15 solar vendors with booths at the event along with a number of related vendors.