APRIL 18, 2012
Obituary
John L. Bartolomeo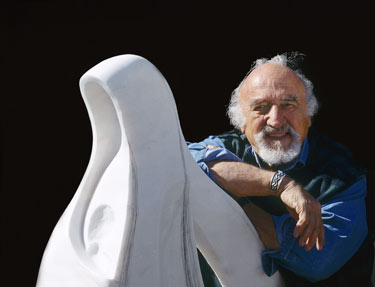 John L. Bartolomeo slipped peacefully into eternity after weeks of cardiac procedures at the Banner Good Samaritan hospital in Phoenix on April 4, 2012.

Born in Joliet, Illinois in September of 1923, Bartolomeo was the only son of Louis and Ida Bartolomeo who also had four daughters. He attended Joliet Township High School and from there attended the University of Notre Dame to study architecture. His college career was interrupted by the war where, given his schooling, he was assigned to the Combat Engineers. In Europe he built pontoon and Bailey truss bridges throughout France and Germany and learned how to open a bottle of Cognac.

Returning home from the war, Bartolomeo graduated from Notre Dame in the class of 1947. From there he returned to his south side of Chicago roots where he put in his architectural internship at the office of Elmer Carlson. After passing his registration exam, he started his own architectural practice, Bartolomeo and Associates which later grew into the partnership of Bartolomeo and Hansen, both in the Beverly neighborhood of Chicago's south side.

Being a close friend of Albert Cardinal Meyer of the Archdiocese of Chicago, Bartolomeo was first known as a "church architect." Responding to the baby boom after the war, the archdiocese built many new schools, churches, rectories, and convents and Bartolomeo seemed to have designed more than his share. After the passing of Cardinal Meyer, Bartolomeo's practice became more commercial and multi-unit residential.

At the age of 65 Bartolomeo closed the doors on his Chicago architectural practice to move to Arizona where he frenetically produced a second full life time's worth of work as a sculptor in welded steel and imported marbles. As he aged, these more monumental works morphed into hand-hammered copper sculptures and jewelry.

Later in life, Bartolomeo became an active member in La Casa, a Franciscan Renewal Center on Lincoln Rd. in Scottsdale where a memorial service will be held on April 24, 2012 at 10 a.m.

Bartolomeo is survived by all seven of his children: Christine, Louis, Louise, Rita, John, Frank and Tom, 10 grandchildren, and one great grand child.

In lieu of flowers, please send a donation to the Franciscan Renewal Center in Scottsdale.