BY LINDA BENTLEY | APRIL 11, 2012
Thomas and Aubuchon disbarred, Alexander suspended
'The political witch hunt that's just ended makes things worse by sending a chilling message to prosecutors …'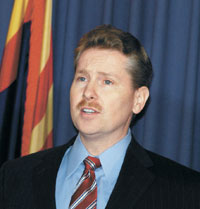 PHOENIX – After taking the matter under advisement in November 2011, the three-member disciplinary hearing panel released its decision on Tuesday, April 10 and with an effective date of May 10, 2012, ordering former Maricopa County Attorney Andrew Thomas (r) and former Deputy County Attorney Lisa Aubuchon disbarred, while ordering former Deputy Attorney Rachel Alexander's license suspended for six months and one day.

On March 23, 2010 Arizona Supreme Court Chief Justice Rebecca White Berch, appointed the Colorado Supreme Court Office of Attorney Regulation, under the direction of Regulation Counsel, John Gleason, as Independent Bar Counsel, to investigate and, as he determined appropriate, prosecute allegations of ethical misconduct against then Maricopa County Attorney Thomas or lawyers in his employ arising from multiple events occurring during his tenure as county attorney.

The ethics complaint stemmed from Thomas' disputes with the Maricopa County Board of Supervisors over counsel, investigation and prosecution of supervisors Don Stapley and Mary Rose Wilcox, the court tower investigation, the RICO case, claims regarding Judge Gary Donahoe, claims involving the final grand jury and failure to cooperate.


On Feb. 3, 2011, Independent Bar Counsel filed a 33-claim complaint, which included charges of conflict of interest and prosecutorial misconduct, against Thomas and attorneys Lisa Aubuchon (l) and Rachel Alexander.

Thomas faced 30 charges, Aubuchon faced 28 charges and Alexander faced seven charges.

Formal hearings before the three-person hearing panel were conducted over 26 days between Sept. 12, 2011 and Nov. 2, 2011, during which the hearing panel heard and considered the extensive record.

In its 247-page order, written by Presiding Disciplinary Judge William J. O'Neil, with a concurring opinion written by public panelist Dr. John C.N. Hall, the panel stated, "In their oath of admission, each of respondents pledged to 'abstain from all offensive conduct,' 'at all times faithfully and diligently adhere to the rules of professional responsibility and a lawyer's creed of professionalism' and 'maintain the respect due to courts of justice and judicial officers.' They did not. Instead, they ignored their sworn obligations to do good and as a result never erected the best barrier against doing wrong. 'Faith in public officials is difficult to restore.' Misconduct of this magnitude can only erode public confidence in our legal profession."

Asserting the respondents became dependent on the public's increasing mistrust of government, O'Neil wrote, "Their power tactics fueled and then fed on that ill will. They were co-dependent on press conferences and public relations and devoid of any balanced independent investigation. Their actions were neither legal nor ethical. We find no good intentions by respondents."

O'Neil found it ironic that both Thomas and Aubuchon opposed the proceedings being open to the public via camera and stated, "We now understand their reluctance."

Stating no one is entitled to a "secret" trial, O'Neil repeated what the panel said in its May 2, 2011 ruling in the case:

"Regardless of the reasons for the publicity preceding this disciplinary matter, this court believes information will not taint the public but rather reported proceedings will clarify and better inform a public that is presently left with little other than innuendo or partisan conjecturing. Few things are more certain to trigger an increase in public distrust than the removal of proceedings from public scrutiny. The best clarification to dark allegations is not more darkness but rather the light of informed reasoning."

O'Neil spoke of the Pledge of Allegiance, which he said "was created to underscore the foundational principles of our great country. That pledge ends with four words. The words may be simple, but they are profound. 'And justice for all.' This panel is firmly convinced justice for all has occurred in this case. It is also firmly convinced respondents never intended the same."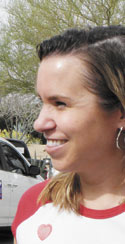 Hall, who said he concurred fully with the panel's opinion but chose to write a concurring opinion from a public member's point of view, stated Thomas and his deputies Aubuchon and Alexander (r) "defiled justice and encouraged others to join in the desecration. Over a period of several years, Thomas, Aubuchon and Alexander exploited the power invested in them, undermined the public trust, and flagrantly misused the law for their own purposes. This is their story."

He wrote, "This is a story of power and fear. It is a story of legal maneuvering, driven like a roller coaster intentionally ripped from its rails, by unethical operators bent on misusing power and promulgating fear. It is the story of the power of law, and its assault at the hands of those entrusted to protect and uphold justice. It is the story of the fear of loss, and the chokehold it clamped on abuser and abused alike."

Quoting from a speech by former U S Attorney General Robert H. Jackson, who later became a justice on the U. S. Supreme Court and the lead prosecutor at the Nuremberg war crimes trials, Hall wrote, "It is in this realm—in which the prosecutor picks some person whom he dislikes or desires to embarrass, or selects some group of unpopular persons and then looks for an offense, that the greatest danger of abuse of prosecuting power lies. It is here that law enforcement becomes personal, and the real crime becomes that of being unpopular with the predominant or governing group, being attached to the wrong political views, or being personally obnoxious to or in the way of the prosecutor himself. [… T]he best protection against the abuse of power, and the citizen's safety lies in the prosecutor who tempers zeal with human kindness, who seeks truth and not victims, who serves the law and not factional purposes, and who approaches his task with humility."

Suspending Alexander for six months and one day means Alexander will have to retake the Bar exam in order to practice law again.

All three respondents have said they will be appealing the panel's decision, which should put the discipline on hold.

Since the trial, new evidence has surfaced regarding county officials, whereas the FDIC is suing lenders over a risky loan given to Stapley, the same loan Thomas and Aubuchon found problematic.

It also seems County Manager David Smith had been playing in pricey golf foursomes with vendors who were later awarded lucrative court tower contracts.

Interestingly, Stapley decided not to run for reelection as a county supervisor and more recently dropped out of the race for Congress, while Smith, who had filed bar complaints against Thomas, Aubuchon and Alexander, abruptly resigned from his position as county manager in February.

After the panel's decision, Thomas issued the following statement: "Today, corruption has won and justice has lost. I brought corruption cases in good faith involving powerful people, and the political and legal establishment blatantly covered up and retaliated by targeting my law license. Arizona has some of the worst corruption in America, according to a recent national survey. The political witch hunt that's just ended makes things worse by sending a chilling message to prosecutors: Those who take on the powerful will lose their livelihood."