APRIL 11, 2012
Scottsdale Civil War Round Table meets April 17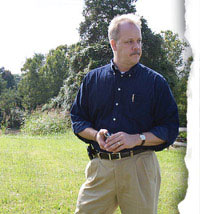 David Duncan presents "The Great American Battlefield Preservation Quiz: Where The Audience Learns at Least 9½ New Things About Battlefield Preservation."

For the past 11 years, David has had the honor to serve under Jim Lighthizer as the Civil War Trust's Director of Membership and Development. This means that he has bottom-line responsibility for all fund raising at the Trust, overseeing all major-donor stewardship and membership activities, new member acquisition and renewal, direct mail appeals, planned giving, foundation grants and members' services.

David joined the Trust in March 2000 after 14 years in the political fund raising industry. His earlier work was nationally recognized for effectiveness three times by the American Association of Political Consultants.

He is a member of the Association of Fundraising Professionals as well as the Direct Marketing Association of Washington, which has recognized his work with seven awards for excellence, and he has served as a board member of the Conservation and Preservation Charities of America.

Of greatest importance, however, is that during his eleven-year tenure heading up the Trust's fund raising efforts, he and his team have now raised more than $95 million from private donors worldwide to leverage a nearly equal amount of public funds, to help save more than 30,000 acres of hallowed ground.

His goal is to be the one person who raises more money than anyone else ever has or ever will, living or dead, anywhere in the universe, to save America's Civil War battlefields.
Scottsdale Civil War Roundtable meets at 6:45 p.m. on April 17 at Civic Center Library (Auditorium), 3839 N. Drinkwater Blvd, Scottsdale.

Everyone is welcome. There is no admission charge.