BY LINDA BENTLEY | MARCH 28, 2012
Tea Party spirits remain high despite lower turnout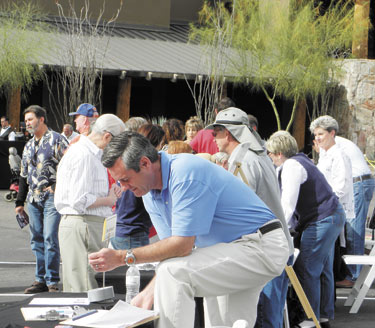 Spirits were high amongst attendees, despite a lower than expected turnout to Saturday's Tea Party event at the Carefree Resort, who appear to still be focused on a government that respects the Constitution, lower taxes and limited government.
Photos by Linda Bentley



CAREFREE – It seems as though it will be difficult, if not impossible, to reproduce the spontaneity of the original Tea Party movement, as evidenced by the less than expected turnout to last Saturday's Tea Party event at the Carefree Resort.

Despite only about 300 people in attendance, those who did attend sounded as enthusiastic and dedicated to moving the country in the right direction as ever before.



Candidates running for office assembled to collect signatures and have some one-on-one time with citizens.

Janet Mohr (l), a District 7 precinct committeeman, who helped organize the event, helped introduce community mem-bers to candidates running for various political offices in what has now become strangely divided into two new legislative districts which not too many people have been able to understand.

Joining Maricopa County Attorney Bill Montgomery as guest speakers were Reps. David Schweikert and Ben Quayle, who are now vying for the same seat in the newly drawn Congressional District 6.

Zina Brodorsky, a naturalized citizen from the former USSR, brought some in the audience to tears when she told a compelling story about her life in the Soviet Union.

Attorney Bill Ponath was collecting signatures to run for Justice of the Peace for the Desert Ridge Justice Court against Clancy Jayne.

Jayne ran for the inaugural post of Desert Ridge Justice of the Peace after voters ousted him from the state legislature.

Voters may remember Jayne, who is not an attorney, eked out a win in 2008 in a three-way primary that split the vote between Ponath and fellow Attorney Paul Henderson to give Jayne the win. Currently, Arizona law does not require justices of the peace to have any formal legal training, although the issue has been bandied about on more than a few occasions.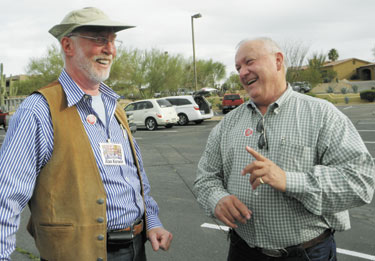 Former Senate President Russell Pearce (r, on right, pictured with Alan Korwin) announced last week that he will be running for the senate again, despite being recalled. He stopped by the event to show his support for conservative candidates, which included his brother Lester Pearce, presiding justice of the peace in Maricopa County, who has formed an exploratory committee for the office of Maricopa County Board of Supervisors District 2, currently held by Don Stapley, who announced he would not be seeking reelection.

Other notables present included Maricopa County Supervisor Andy Kunasek; District 7 Rep. David Burnell Smith; Ray Sweeney of the Maricopa County Republican Committee; U.S. Senate write-in candidate Steven Watts, who calls himself a true fiscal, social and constitutional conservative; Carefree Councilman Jim Van Allen; Cave Creek Unified School District Governing Board member Susan Clancy; and Alan Korwin, author and nationally recognized expert in the area of gun laws, who owns and operates Bloomfield Press, the largest publisher and distributor of gun law books in America.