BY bESTY BITTEM | APRIL 1, 2012
Stunning baby orca will headline Carefree
Garden Tour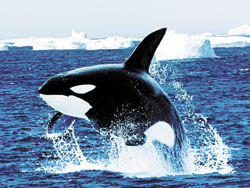 CAREFREE – The 1st annual Carefree Mayor's Garden Tour, set for Sunday, April 1 from 1 – 3 p.m., is expected to become a boffo triumph as Mayor Schwan was able to secure the loan of a baby orca of the oceanic dolphin family for display in the town fountain.

Nicknamed "Baby Mel" in honor of Vice Mayor Melissa Price, children of all ages will be able to view and pet the orca and feed her live fish donated by a California aquarium. The mayor noted, "This is yet another marketing triumph for the town council, exceeded only by our massive sundial, faux gas lights, and spiffy A-frame signs."

The mayor stated admission is free, but donations would be welcome to help offset the town's costs of obtaining "Baby Mel" for the event.