BY SHARI JO SORCHYCH | APRIL 1, 2012
Lake Morning Star fully stocked for fishing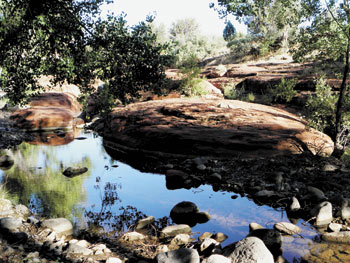 CAVE CREEK – According to the latest news from local fishing insiders, Morning Star Lake is now stocked with various species of native fish. The season will be longer in future years since the stocking took place in March rather than in November, which is preferred and will be the case later in the year.

Local business owners and residents alike are thrilled. Adding "fishing" to a travel brochure or list of activities goes a long way toward attracting families and outdoor types. Locals can now cast or bring a chair, sit back and rest a line in the water.

Fishermen, women and children will share the area surrounding the lake with artists painting the landscape, horseback riders, neighbors walking their dogs, hikers and bicyclers.

The lake resulted after construction of a road across Cave Creek on the Morning Star alignment, which is being investigated.

Fishing licenses are available at Arizona Fishing Commission or FishLakeMorningStar.com.