BY SHARI JO SORCHYCH | APRIL 1, 2012
"Joe Arpaio for U.S. President" explodes nationwide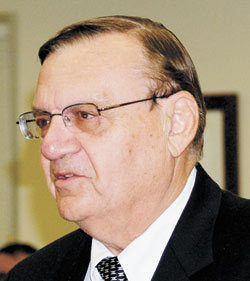 PHOENIX, Ariz. – Citizens from across the United States of America know, love and support Maricopa County Sheriff Joe Arpaio. His fame runs broad and deep among conservatives, evangelicals, independents and those in favor of securing the border.

During a March 1, 2012 press conference Arpaio and Mike Zullo, the head investigator for the Maricopa County Sheriff's Cold Case Posse, announced results of the investigation into Barack Hussein Obama's constitutional eligibility to hold office.

We just thought the Occupy and the Tea Party movements were going to shake things up. The fact the mainstream media refused to publicize the findings that Obama's Certificate of Live Birth and his Selective Service System Registration were apparently both fraudulent documents, caused an uproar unlike anything we could have imagined.

People have come out of nowhere as campaign volunteers for Arpaio for President of the United States (Arpaio4US). Arpaio has indicated that Zullo, because of his stellar work on the investigation, will be chosen as his running mate. Tens of thousands of people have already visited his presidential campaign social media pages, where the numbers are increasing exponentially hour by hour. Comments are overwhelmingly positive.

His campaign supporters have established a weekly meeting online, Thursdays at 9 a.m. MST. All citizens are invited to participate. You are encouraged to make sure your voice is heard.

Contributions to the campaign currently total an unbelievable $400 million after only three weeks and continue to grow. Contributors from 48 states outnumber those of any other candidate. The self-identified demographic encompasses every age and socio-economic group and include Occupiers, Conservatives, Independents, Republicans, RINOs and many more. He has also become an instant draw for people who had previously lost hope in our political system.

The latest poll, although very early in the process, shows Arpaio trailing Obama by 10 points but winning handily over all other Republican candidates. The poll numbers are increasing almost as fast as the social media numbers and contribution total.

All we can do now is to wait for the nominating convention of the Republican Party.
We say go Joe!