BY SHARI JO SORCHYCH | MARCH 14, 2012
Professional rodeo at its Cave Creek best
2012 Fiesta Days™ Rodeo March 30 – April 1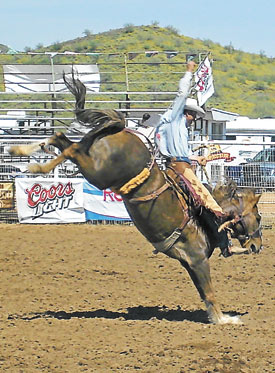 CAVE CREEK – Do you remember the weather last year during Fiesta Days™? It was bitterly cold and rainy, too miserable for many fans to attend the annual Desert Foothills Community Association's (DFCA) rodeo events, which are sanctioned by the Professional Rodeo Cowboys Association (PRCA).

So this year, more than ever, you are encouraged to attend all of the professional rodeo performances at the Cave Creek Memorial Arena. It's just a few minutes from downtown Cave Creek (map inside).

For those of you who have never attended a PRCA rodeo, the competitive event categories include Bareback Riding, Steer Wrestling, Team Roping, Saddle-Bronc Riding, Tie-Down Roping and Bull Riding. This is entertainment extraordinaire! Invite your family and friends.

The PRCA World All-Around Champion is considered by many the most talented and versatile cowboy in the sport. The PRCA Cowboy who wins the most prize money in a year while competing in at least two events, earning a minimum of $3,000 in each event, wins the world all-around championship.

Dedicated, never-miss rodeo fans and those of you who haven't been to the rodeo for a while, you don't want to miss this year! The high quality stock from Cervi Championship Rodeo Company will help draw the best in professional cowboys. One PRCA cowboy has reached the $1 million mark in career steer roping earnings.

Do you remember this news item from July?

"Desert Foothills Community Association – victim of theft"

The DFCA, a local 501(c)3 non-profit Arizona corporation, has suffered a tremendous loss. This all-volunteer group that produces the Cave Creek Fiesta Days Rodeo each spring and supports other local charities has fallen victim to a serious crime.

Sometime between DFCA meetings held in May and June at the rodeo grounds, the DFCA was robbed. A huge "connex box" (large, metal storage container) containing DFCA property was removed from the rodeo grounds. Property value stolen is estimated at around $15,000 and the DFCA members are devastated.

Stolen items including arena lighting, chairs and tables, table cloths, linens, barware, VIP club decorations and arena signage, were never recovered.

How can we support OUR rodeo? Go to rodeo! Adult tickets are only $12, kids $6. Attend VIP! Stockman's Club through memberships and single performance passes. Advertise your business! Become a sponsor! Volunteer!

Please consider making a tax deductible donation to make a real difference. The DFCA mailing address is Desert Foothills Community Association, P.O. Box 647, Cave Creek, AZ 85327.

"We opened our doors 25 years ago on Fiesta Days weekend and I still remember it like it was yesterday. I couldn't believe all the people and being from Pittsburgh, I didn't really know a thing about rodeo. Harold's supports the DFCA [Fiesta Days Rodeo Committee] more and more each year. It's a no brainer. Fiesta Days brings so much to the Town of Cave Creek and all its businesses. The only question I have is how could you not support Fiesta Days?" said Danny Piacqauadio, Harold's Cave Creek Corral.

For information about supporting our rodeo and getting involved please visit www.cavecreekprorodeo.com. For the latest (including a map) about this year's Cave Creek Fiesta Days™ Rodeo and other special events, pull out and save the special supplement inside.