MARCH 14, 2012
12th Annual Festival of Fine Art in Cave Creek, March 16 – 18
Features Sonoran Arts League members alongside nationally-acclaimed artists from around the country
CAVE CREEK – The Sonoran Arts League brings you three days of world-class art, live musical performances and wine tasting all in an elegant outdoor setting.
Nestled in the rugged yet scenic desert foothills north of Phoenix and Scottsdale, Cave Creek is small enough to feature the hospitality of a small town, yet large enough to offer visitors the complete Arizona experience. You will feel as though you had stepped back in time 100 years, to discover a thriving arts community which includes numerous art galleries, artist studios and an eclectic array of specialty shops, restaurants and yes, real western saloons!
Immerse yourself in fine art, live music, Southwest cuisine and wine tasting at one of the largest and most prestigious open-air fine art shows in the Southwest.
The three-day Festival takes place from 10 a.m. – 5 p.m. daily, March 16 – 18, at Stagecoach Village, 7100 E. Cave Creek Rd. in downtown Cave Creek, an upscale western themed shopping center, where you will experience Arizona charm surrounded by the unrivaled beauty of the high Sonoran Desert.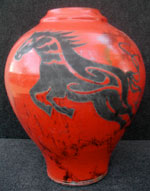 Sponsored by the Sonoran Arts League, the prestigious Sonoran Festival of Fine Art presents over 100 artists from around the country. The high standards for acceptance into this juried show ensure that you will see collector-quality, outstanding artwork in a variety of mediums and styles.
This year the 11th Annual Festival of Fine Art is being produced in partnership with Vermillion Promotions, one of Arizona's top rated producers of Fine Art, Wine & Culinary Festivals for over 25 years.
You will discover some of the most accomplished artists exhibiting originals works on canvas, copper relief, bronze and stone, paper art, glass, exquisite hand-crafted jewelry, ceramic and mixed media treasures.
Enjoy wine tasting and a selection of fine wine featuring Arizona Wine Growers, Arizona Stronghold Vineyards, Jerome Winery, and Kokopelli Winery.
VeeRonna, the Southwest's premier electric harpist and Patrick Ki, known for his unique guitar artistry, perform live.
This event has become a "must attend" on every art lovers' calendar.
For information call 623-734-6526 or visit
vermillionpromotions.com
and
sonoranartsleague.org
.