BY LINDA BENTLEY | MARCH 14, 2012
Former finance director appointed to fill vacant school board seat
'Describe how a positive governing member performs. Describe how a negative governing board member performs …'
CCUSD93 – Maricopa County Education Services Agency (MCESA) appointed Karen Tuffs of Carefree to fill the vacancy on the Cave Creek Unified School District (CCUSD93) Governing Board created by the resignation of Mark Warren last year.
Warren resigned in October, stating he had accepted a job promotion in Virginia.
He also resigned his post as treasurer of Arizona School Boards Association.
However, Warren, a dental sales representative, has since taken his Tatum Ranch home off the market and appears not to be leaving after all.
Tuffs recently retired as CCUSD93's finance director.
Meanwhile, things have changed at the former Maricopa County Superintendent of Schools Office as well, beginning with its name change to MCESA.
The way school board vacancies are filled between elections has also been completely revamped.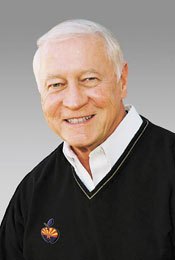 According to Maricopa County Superintendent of Schools Dr. Donald Covey (r), the appointment of vacancies "should be taken very seriously" and districts must "continue to attract and retain community members to serve on the local school board … Procedures must ensure that all appointments advocate increasing student achievement and success while maintaining positive learning and working environments."
The process was changed in Aprill 2011 so the Maricopa County Super-intendent of Schools no longer has the exclusive decision-making responsi-bility for appointments to vacancies on school boards and now utilizes a "Consensus Decision Making Process."
The vetting process will now be accomplished by a collaboration of the local school district governing board president, school district superintendent and the president of the local association or federation of teachers "to ensure that each local school board vacancy appointment is in the best interest of the local community, the children and students, and educators."
The board is supposed to provide the superintendent and administration with direction. The collaboration team consists of only district insiders.
The nominee's responsibilities, aside from providing personal and contact data, include providing proof of current voter registration within Arizona, along with a signed notarized affidavit attesting to those residency and registration qualifications.
The nominee must also provide background information as to their career and education, community and school services, home and family, and hobbies and recreation.
The nominee needs to provide "examples of personal and professional skills and experiences that would ensure positive learning and working conditions within the district."
The process also asks that nominees: "Describe how a positive governing member performs. Describe how a negative governing board member performs. Describe how you would perform as a governing board member. Describe why you would be the best nominee to be appointed to the governing board."
The nominees will then be required to attend a "Nominee Seminar" with the district's collaboration team, where the Maricopa County Superintendent of Schools will observe each nominee, utilize "An Appointment to Governing Board Rubric," to accept or not accept the recommen-dations of the collaboration team.
While Covey doesn't wish to be the sole person responsible for selecting board members to fill vacancies, and wishes the appointments to be, among other things, in the "best interest of the local community," the local community and taxpayers are being ignored in the entire process.
As it is, most board members are hand selected to run for office by invitation of superinten-dents, who have typically surrounded themselves with people who will approve their agenda.
Perhaps MCESA is no longer a relevant county agency and should be disbanded.