BY SHARI JO SORCHYCH | MARCH 14, 2012
Foothills Food Bank launches capital campaign for a permanent home
CAVE CREEK – One of the community's best friends is taking a gigantic step forward with the launch of a capital campaign for a permanent home. According to Foothills Food Bank Executive Director Pam DiPietro, all 400 food bank volunteers look forward to the time when they no longer will be working in a space less than one-third the necessary size.

Because of the uniquely specialized nature of the services provided by the food bank, its building needs are also unique. Although erecting a building is an option, the preference is to move into an existing building by year end. Because demand and, thankfully, donations are so heavy in November and December, it would be ideal if it could be moved and settled by no later than November 1.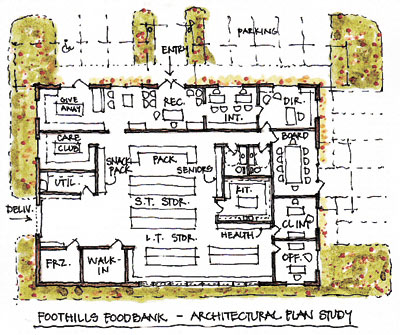 The rendering shown illustrates a working floor plan encompassing approximately 7,000 square feet that would allow for increased efficiency in serving more than 8,000 people from all walks of life from an approximately 180-square mile area. Since those who depend upon the food bank know to find them here and 38 percent of the clients are from Cave Creek and Carefree, they would like to stay in Cave Creek.

The goal for the drive is to raise funds for purchase of a building, remodeling if needed, equipment and monthly overhead for a period of no more than one year to guarantee uninterrupted service to our community by this vital organization. The preliminary fundraising goal is $1.2 million and will be finalized once the actual purchase/remodeling/building costs are known. The preliminary goal is based on recent sales of commercial property in Cave Creek.

Since 2008, clients needing the food bank have increased by 213 percent. This certainly demonstrates the impact the recession has had in our area. The food bank receives an average of 40,000 pounds of donated food monthly. People drop off donated items almost daily which need to be stored.

Beyond the space needed for freezers, refrigerators and shelving for basic non-perishable foods, warehousing needs include room for special health foods (i.e. diabetics), snacks for children, food for homebound seniors, clothing, diapers and other children's items, personal care goods and more.

In addition there may be as many as 25 families in need that visit the food bank within a three hour period, so adequate parking is vital.

A small office has been included to ensure client privacy when discussing their needs. A meeting room for volunteers and the Foothills Food Bank Board of Directors has also been included in the plans.

Join the team today with your commitment by completing a Capital Campaign Pledge Form available at www.foothillsfoodbank.com/capital-campaign.

If you wish to make a one-time donation, visit www.foothillsfoodbank.com or send your capital campaign donation check by mail to Foothills Food Bank, P.O. Box 715 Carefree, AZ 85377.

Please contact Pam DiPietro at 480-488-1145 or via e-mail foothillsfoodbank@gmail.com regarding availability of a building of the appropriate size, either for purchase or as a donation. Accepting a donation of undeveloped land will also be considered, as will purchase, although the cost is higher to build and it will likely take far longer than year end.