MARCH 7, 2012
Obituary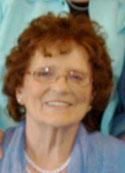 Priscilla Hadler Stark

Pat Stark, age 84, of Cave Creek, Ariz. passed away suddenly from a stroke on Mar. 2, 2012. She was surrounded by her loving husband of 63 years Dr. William Stark and her three daughters, Debbie (Mike) Craft of Laramie, Wyo., Cindy (Jeff) Emmons of Grand Junction, Colo., and Jill (Leslie) Duckett of Aurora, Iowa. Also with Pat were her four grandchildren William (Jess) Stark, Mike Stark, Katie Emmons and Sam Emmons as well as her surviving sibling Jack Hadler of Glen Cove, N.Y.

Pat was born in Cando, North Dakota on Sept. 6, 1927. She met her husband, Bill, at NDSU and they married in 1948. She earned her masters degree in clothing and textiles at Univ. of Wyoming in 1968 and taught home economics in middle school for 36 years, primarily in Rockford, Ill. She and Bill retired to Cave Creek in 1988, where she was well known for her Vintage style shows with her company, The Way We Wore.

A Celebration of Pat's life will be held at 2 p.m. at Desert Foothills Library, 38443 N. Schoolhouse Road, Cave Creek, Ariz. on Sunday, Mar. 11, 2012. Donations may be made in Pat's honor to the Salvation Army in lieu of flowers.

Pat lighted the life of all she knew and will be greatly missed.