BY LINDA BENTLEY | MARCH 7, 2012
Cold Case Posse reveals Obama's documents are forgeries
'After seeing the evidence presented, I firmly believe we have an illegal alien in the White House'


PHOENIX – U.S. Senator James Inhofe, R-Okla., has a book coming out titled "The Greatest Hoax," addressing the fraud behind the global warming scandal and President Obama's pressing plans for a global carbon tax and onerous regulations to effect the largest wealth redistribution in history.
Meanwhile, every member of Congress seems to be blind, deaf, dumb or complicit in an even larger hoax perpetrated against the American people.

On March 1, Maricopa County Sheriff Joe Arpaio held a press conference, during which his Cold Case Posse revealed some preliminary findings of its investigation into Obama's birth certificate and Selective Service registration.

The Surprise Tea Party petitioned Arapio six months earlier to investigate Obama's constitutional eligibility to hold office and appear on the ballot in 2012.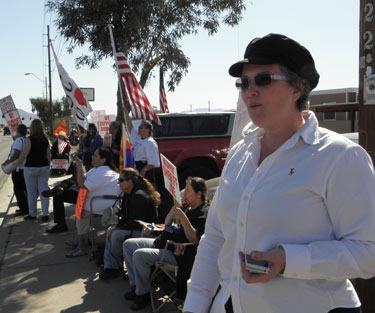 Mothers Against Illegal Amnesty founder Michelle Dallacrose (r) was across the street from where the press conference was held with a group of Arpaio supporters. Dallacroce watched the press conference on live streaming video on her iPhone.

On Monday she said, "After seeing the evidence presented, I firmly believe we have an illegal alien in the White House."

Throughout the press conference, Arpaio mentioned numerous times that the Cold Case Posse was looking into the allegations at no expense to taxpayers.

He said, "I asked the posse to conduct the investigation with no preconceived notion … We are prepared today to say probable cause exists fraud has been committed."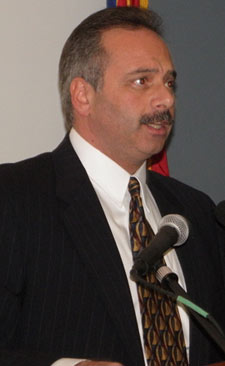 Mike Zullo (l), the lead investigator of the Cold Case Posse, said they looked at information in an effort to prove the legitimacy of Obama's long form birth certificate posted by the White House on April 27.

However, he said, evidence took them in "another direction."

They also found anomalies with Obama's Selective Service registration.

Zullo showed a series of videos explaining the problems with Obama's birth certificate by first stating they scanned in a control document, which contained "one layer and an equal amount of noise throughout the document."

Because Obama's birth certificate contained 9 layers, Zullo stated, "We don't believe the document ever existed in paper form" and said it appeared to be a computer generated document.

He said some people have stated OCR (optical character recognition) software was used in an attempt to explain away the anomalies in Obama's birth certificate.

But the document failed all three parts of the test that would demonstrate OCR was used.

Zullo said they were able to determine "with 100 percent certainty it was not put through OCR."

Other people claimed the anomalies were caused by "optimization."

However, the document failed the optimization test as well.

"Optimization doesn't explain a single anomaly in Obama's birth certificate – not a single one," said Zullo.

What the posse found most problematic was the date stamp and registrar's stamp could be moved around the document leaving a white haloed effect.

Considering the stamps are supposed to be a control feature of legitimate documents, it was troubling that they could be moved around.

The posse discovered the green safety paper was added last, so all the imported items from unknown sources in the various layers of the document had white underneath rather than green safety paper.

Zullo said they made numerous attempts to defend the document's authenticity but all had failed.

He said, "The document is far too problematic to discuss in one press conference. The entire document is fraudulent."

The posse also received information and allegations that Obama was born elsewhere.

Zullo said the National Archives have microfilm copies of INS records of every individual coming into this country in 1961.


Jerome Corsi (l), WND investigative reporter and author of "Where's the Birth Certificate?"
examined records at the National Archives for 1961 and found the records for Aug. 1 through Aug. 7 had mysteriously disappeared from the microfilm.

That led the posse to believe Obama was possibly born abroad.

In explaining the problems with Obama's Selective Service registration, specifically the postal stamp used to date stamp his registration, Zullo said it was "not just forged, but poorly forged."

They determined the two-digit '80 year used on Obama's registration when all other registrations, some from the same post office, were stamped with a four-digit year, was done by cutting a 2008 pica insert in half and turning the 08 upside down.

Zullo said, "There is no legitimate reason for a post office employee to cut a year insert in half. That has severe implications that I cannot speak of today. We believe this should be a full-blown criminal investigation."

In another development, Zullo said they have identified a person of interest in the birth certificate forgery and have pinpointed the computer where the document resided prior to it being uploaded to the White House's website.

Corsi spoke briefly to express sympathy at the passing of Andrew Breitbart and said Arpaio gave an interview to Breitbart on Wednesday, which may have been his last interview.

Corsi said he is determined to find the truth but made it very clear that he was not present during the posse's investigation and his role is as a journalist.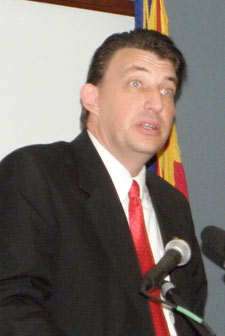 Rep. Carl Seel (l), R-Dist. 6, said, "I have a bill to deal with this issue … to address the concerns before us and in the future," and commended Arpaio for taking on the investigation.

Arpaio said, "If these documents are forged, there is probable cause a crime has been committed. The challenge is where to take these findings. Where do I go next? U.S. Congress? Do I ask for a Congressional Investigation?"

He said there were two alleged crimes committed, forgery and fraud, adding, "We're going to pursue it. If nothing else, we've learned we need a better process.

"We have sworn affidavits from many people all over the world. We'll continue to do our job."

At the end of the presentation, Zullo provided one more tidbit of information from their ongoing investigation. He said a person has come forward and signed an affidavit claiming to have been present at Bill Ayers' mother's home in 1980 where Obama was introduced to her and was seeking funding as a foreign student.

The media was then allowed to ask questions.

While there were no questions about any of the evidence presented, one woman blurted out, "You're saying the president is living a lie."

Another person asked what Arpaio's motivation was in conducting the investigation and asked if it was politically motivated.

A Muslim woman from the Walter Cronkite School of Journalism asked about Arpaio's meeting with the U.S. Department of Justice over allegations of racial profiling.

Howie Fischer from Capitol Media Services claimed the issue had been gone over "up and down in all 50 states" and no one else in the country found any such evidence.

Confounded that no one seemed remotely interested in what the Cold Case Posse's evidence revealed, Arpaio responded, "Look, I'm a law enforcement guy. I gave it to the Cold Case Posse. I don't care who it is. If it's been looked into by 50 states, Howie, let's see how far they went. Show me. I said from the beginning I want the truth. I don't care which way it falls."

Responding to another member of the media, Zullo said he was a registered Republican but not a Tea Party member and stated, "This wasn't on my radar screen. I wanted to validate the document."

Both Zullo and Arpaio stressed they were not accusing the president of anything until they could prove who may have committed these crimes.

Arpaio said, "I think this is a pretty important investigation. I haven't decided where to go with this yet. It's a very important decision," concluding, "I think the media should stick with the evidence we have."

On Monday afternoon, Dallacrose posted a "State of Emergency – Call to Action" on her website, which, in conjunction with the Surprise Tea Party, is asking citizens to contact their legislators and encourage them to sponsor or cosponsor a "strike everything" bill with language that would give the Arizona Secretary of State the authority to keep Obama off the 2012 ballot until there is resolution to the criminal investigation into his birth certificate, Selective Service documents and any other claims that may be part of the Cold Case Posse investigation.

Visit http://mothersagainstillegalamnesty.com/ for more information.

Visit www.mcsoccp.org to make a tax-deductible donation to the Cold Case Posse to help fund its ongoing investigation.