FEBRUARY 29, 2012
Stock contractor Cervi Championship Rodeo brings new energy to Cave Creek Fiesta Days Rodeo
34th Annual Event Kicks Off With March 28 Golf Tournament; Top-Ranking Contestants to compete March 30 – April 1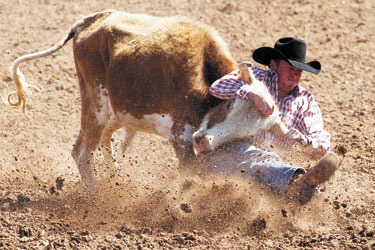 CAVE CREEK – Just how important is the livestock in a rodeo competition? Organizers of the 34th Annual Cave Creek Fiesta Days™ Rodeo believe it plays a significant role in attracting top-ranking contestants, bigger purses, and large crowds. So, when the renowned Cervi Championship Rodeo Company agreed to partner with the Cave Creek Fiesta Days Rodeo Committee to produce this year's Fiesta Days Rodeo March 30 – April 1, it was easy to get excited.

"The Cervi brothers are third generation rodeo with both of their grandfathers having competed in Cheyene," said Bill Buckles, a 2012 Board Member and the Arena Director. "We've always worked with good stock contractors, but we jumped at the chance to work with Cervi. We believe they will bring new energy to our rodeo."

Buckles explained that the livestock plays a critical role in presentation. "The horses and bulls are responsible for 50 percent of the scoring. With Cervi on board, we're expecting a fast-paced event with plenty of spirit. You'll be entertained from start to finish," he said.

There will also be new energy infused into the Fiesta Days 2nd Annual Dan Lebsock Memorial Golf Tournament and Fundraiser set for Wed., March 28 at Tatum Ranch Golf Club with a 1 p.m. shotgun start. The Prime Rib dinner, awards, raffles and silent auction will immediately follow the tournament at Harold's Corral in Cave Creek. The fee for a foursome is $480; hole sponsor is $100; and a sponsor package is $550, which includes the foursome and hole sponsor. Additional dinner tickets are $21.99. For more information or to volunteer, contact Dick Gernandt at golfchair@cavecreekprorodeo.com.

The festivities continue throughout the weekend at Cave Creek Memorial Arena with three full thrilling PRCA rodeo performances featuring top-ranking Professional Rodeo Cowboy Association (PRCA) and Women's Professional Rodeo Association (WPRA) contestants.

Friday night's 7 p.m. performance is "Tough Enough to Wear Pink" in support of the fight against breast cancer. The Fiesta Days Parade is Saturday morning in the Town of Cave Creek. Mutton Bustin' for the little Buckaroos will be on Saturday at 2 p.m., followed by the 7 p.m. Saturday night performance. Sunday's 2 p.m. performance is Wrangler National Patriot Day in support of America's wounded and fallen soldiers and their families. Rodeo dances with live music will be held both Friday and Saturday nights after the rodeo at Harold's Corral in Cave Creek.

Rodeo admission is $12 for adults and $6 for children ages 6-17. Children 5 and under are free. Parking is free, and event organizers will continue to collect non-perishable food donations to support the Foothills Food Bank. For up-to-date information visit www.CaveCreekProRodeo.com.