BY LINDA BENTLEY | FEBRUARY 29, 2012
Disgraced former boxing promoter to pay $7,500 in restitution
'There is justice in the United States!'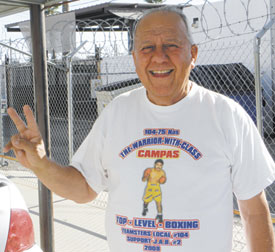 PHOENIX – On Feb. 24, after two continuances, Peter McKinn, the disgraced former Top Rank boxing promoter, offered to pay $7,500 to settle restitution with former boxing trainer Joe Diaz (r) and his fighter Luis Ramon "Yory Boy" Campas, for the $5,000 bad check he wrote to them in 2004 as part of the purse for a fight.

That bad check morphed into forgery, fraud and conspiracy to cover it up, involving Mary Rose Wilcox, in her capacity as chair of the Arizona Boxing Commission as well as her position as Maricopa County Supervisor; her husband Earl Wilcox, as special assistant to then Governor Janet Napolitano; former Arizona Boxing Director John Montano; former Maricopa County Attorney Rick Romley, and others.

After entering into a plea agreement to felony counts of theft, solicitation to commit forgery and solicitation to commit perjury, McKinn was eventually sentenced to five months in jail followed by six years of probation.

McKinn, who did not appear in court, was represented by his Attorney Brian Russo, who stated his client authorized him to offer the settlement.

Diaz agreed to the settlement with the condition it be paid within 30 days.

Maricopa County Superior Court Judge Dawn Bergin, after discussion in chambers with Russo, Diaz and Campas' Attorney Ed Moriarity, and Gila County Attorney Daisy Flores, whose office prosecuted the case, said the parties have stipulated the $7,500 be paid to the clerk's office within 30 days, allocating $4,000 to Campas and $3,500 to Diaz.

She then set the case for a status conference in 45 days, advising the Adult Probation Department to submit a report 10 days prior to ensure McKinn has complied with the restitution order.

If the restitution is paid, Bergin said the court could vacate the status conference.
Bergin cautioned Russo if his client failed to pay there would be no waiver of McKinn's appearance for the status conference, during which he could be found in violation of probation and subject to incarceration.

Diaz was happy with the settlement and said he owes his gratitude to Moriarity, the Plumbers and Pipefitters Union Local 469, Teamsters Local 104 and Iron Workers Local 75, who have stood behind him and provided their support throughout his ordeal.

Diaz called Campas in Mexico after the hearing to give him the news. According to Diaz, Campas was elated and said, "There is justice in the United States!"

This doesn't quite put an end to the issue, however, as Diaz and Campas also have a complaint pending against the parties involved in the conspiracy and cover-up that cost Campas his boxing license for a year during his prime and Diaz's trainer's license for five years, which caused him to eventually lose his gym and his livelihood.