FEBRUARY 22, 2012
Spring Training Festival celebrates America's love affair with baseball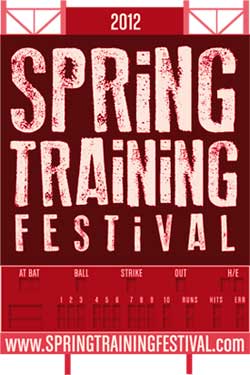 In America's love affair with baseball, Scottsdale's Spring Training Festival is like the season's first kiss.

The festival debuts this Saturday and Sunday, Feb. 25-26, on the Scottsdale Civic Center Mall and in the adjacent Scottsdale Center for the Performing Arts. Admission is free to a groundbreaking event that combines the past, the present and the future of baseball in fun and unique ways.

The festival marks the unveiling of both the Play Ball Experience Scottsdale historic exhibit and the Mad Science of Baseball, a signature event of the Arizona SciTech Fest featuring interactive activities and experiments.

The Spring Training Festival also brings together what may be the largest gathering ever of Cactus League team shops and representatives. Fans will be able to shop for MLB merchandise, get team information and purchase tickets to virtually every 2012 spring training game.

An array of former MLB players, such as all-stars Rollie Fingers and Ferguson Jenkins, will be at the festival to sign autographs and reminisce with fans. A premiere collection of restaurants, vendors and live music on the mall completes the lineup.

Festival hours will be 10 a.m. to 6 p.m. Saturday, Feb. 25, and noon to 5 p.m. Sunday, Feb. 26. The festival is hosted by The Scottsdale Charros and presented by Land Rover North Scottsdale.

For more information, visit: www.springtrainingfestival.com.

Here's a summary of main festival attractions:

Play Ball: The Cactus League Experience Scottsdale exhibit
Before charter flights and day spas there was Buckhorn Baths. The out-of-the way Mesa resort was the spring training home to the New York/San Francisco Giants for decades. Scottsdale's multimedia exhibit provides a glimpse back in time when the Giants practiced in dirt parking lots and soaked sore muscles in desert mineral baths. These never before seen items will be on display for free through March at the Scottsdale Center for the Performing Arts. http://www.playballexperience.com/

Mad Science of Baseball
What's it like to experience a 100 mph baseball whiz by your field of vision? The Festival will bring together some of the nation's most accomplished sports researchers to discuss, debate and display baseball trends and innovations. Mad Science of Baseball also features fun, interactive experiments designed to engage fans of all ages.

Field of Teams
Fourteen of the 15 Cactus League teams will have booths at the Spring Training Festival where you can talk with team representatives about the upcoming season, buy MLB merchandise and purchase game tickets. There will also be appearances by former players.