FEBRUARY 15, 2012
Cave Creek Fiesta Days Rodeo and Parade set for March 28 – April 1
34th Annual Event Features Top-Ranking Male & Female Rodeo Contestants, Festive Parade through Cave Creek, Rodeo Dances, Mutton Bustin' & More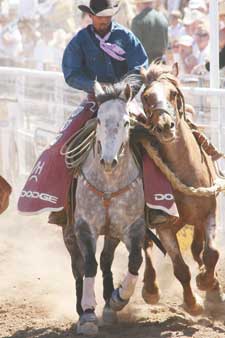 CAVE CREEK – Mark your calendar to attend one of the Valley's biggest events, Fiesta Days™ Rodeo, set for Wednesday, March 28 through Sunday, April 1 in Cave Creek!

Presented by the Desert Foothills Community Association (DFCA), the 34th annual event kicks off Wed., March 28 with a golf tournament at Tatum Ranch Golf Club, followed by dinner, fundraising and awards at Harold's Corral. The festivities continue throughout the weekend at Cave Creek Memorial Arena with three full thrilling PRCA rodeo performances featuring top-ranking Professional Rodeo Cowboy Association (PRCA) and Women's Professional Rodeo Association (WPRA) contestants.

New this year: Renowned stock contractor Cervi Rodeo will bring their world champion bucking horses and bulls to this year's Fiesta Days Rodeo, elevating the event's standing in the national rodeo circuit. DFCA organizers say Cervi will infuse a new, fresh energy into the rodeo and attract new contestants.

Also new this year: Parking is free, but event organizers will continue to collect non-perishable food donations to support the Foothills Food Bank.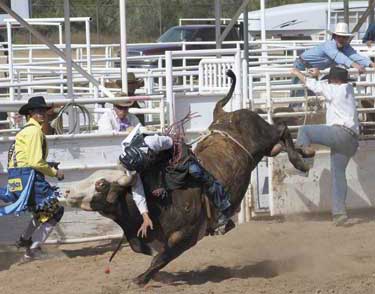 Friday night's performance is "Tough Enough to Wear Pink" in support of the fight against cancer. The Fiesta Days Parade kicks off at 9 a.m. on Saturday, March 31 in the Town of Cave Creek. Mutton Bustin' for the little Buckaroos will be on Saturday afternoon, followed by the Saturday night rodeo performance.

Sunday's performance is Wrangler National Patriot Day in support of America's wounded and fallen soldiers and their families. Rodeo dances with live music will be held both Friday and Saturday nights after the rodeo at Harold's Corral in Cave Creek.

Rodeo admission is $12 for adults and $6 for children ages 6-17. Children 5 and under are free.

For up-to-date information or advance ticket sales, visit CaveCreekProRodeo.com.

Fiesta Days Rodeo Bull Rider photo by Katie Moore