BY LINDA BENTLEY | FEBRUARY 8, 2012
School board president lashes out at Cave Creek mayor
Francia said it mattered not whether it is called a cost or an investment, 'it is an expense borne by others'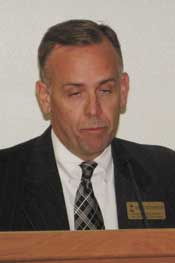 CCUSD93 – It's been months since the Cave Creek Unified School District's proposed 15 percent budget override was defeated, but apparently governing board President David Schaefer (r) isn't finished venting his hostility.

On Jan. 31, he fired off an e-mail to Cave Creek Mayor Vincent Francia with the subject line "Arts" that read, "With all due respect, your lack of support for funding for Cave Creek schools makes this an empty endorsement. You were in a position to help make a difference and retain full funding for teaching the arts in our schools and you chose to turn your back. I will return the favor with hollow support for all of the issues and events in Cave Creek."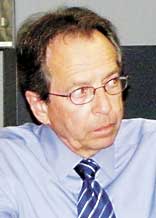 Francia (l) responded, "I'm not sure of the point you're making. My not supporting bond issues and overrides (tax), does not translate into lack of support for the arts."

Schaefer wrote back, "Our last override specifically stated that one of the items supported would be Art, Music and PE teachers. Now we are facing the loss of those positions. It is disingenuous to say you support the Arts but do not support the funding necessary to keep Art and Music teachers in our classrooms. I suppose it makes a good youtube video for you but anyone who knows the truth knows that your words are empty."

Francia had no idea who Schaefer was up until a few days later.

He wrote back saying, "I wasn't aware you were a member of the school board until reading an article recently in the Scottsdale Republic.

"Again, I'm not clear as to what is spurring your unkind words or your insistence on linking the override to my support of the arts. My support for the arts is well documented in Cave Creek, i.e., founding the Cave Creek Film and Arts Festival and continuing support of the Sonoran Arts League. One's support of the arts is not confined solely to a school's curriculum.

"For the record, I took no active role regarding the override and in fact, due to work responsibilities, I missed casting my vote. However, other citizens did. We both abide by the will of the citizens."

Schaefer, who does not reside in the town of Cave Creek, wrote back again saying he was e-mailing Francia as a parent, "not in his role as a governing board member," adding, "My sentiments are my own, I am not speaking on behalf of the board or CCUSD."

He claimed to be motivated by "what is best for our children. Too often they are viewed as a cost rather than an investment."

According to Schaefer, artists who participate in the film festival or Sonoran Arts League most likely learned their craft and their love for the arts in public school.

He stated, "At the rate we are going they won't be finding it in CCUSD. You will be getting your artists imported from other areas."

Schaefer went on to say, "Of all people in our community, you should know that a non-vote is the same as a no vote. You could be a leader in Cave Creek and a champion for your town's namesake public school district. Instead we have 'no active role' probably so that your official newspaper doesn't aim its ink at you. I am painfully aware that you took no active role, to me that is the same as advocating against. Our community and our children need leaders."

Schaefer wasn't around when former Superintendent John Gordon decided to annex the town's namesake public school district into Scottsdale.

In conclusion, Schaefer wished Francia luck in promoting Cave Creek and said, "You won't be seeing myself or my family up there."

As elected officials, Francia stated it is difficult to "remove one's hat to accommodate a situation," while acknowledging Schaefer was speaking as a parent.

While Francia didn't disagree that a child's introduction and nurturing of the arts is developed in a school system, whether public or private, as well as in the home, he said, "Our source of disagreement, in regards to an arts curriculum in a school, is in how it's funded."

Francia said it mattered not whether it is called a cost or an investment, "it is an expense borne by others."

Pointing out most of our annual property tax bill has to do with revenue for the school district, Francia said, "I don't dispute the nobility of purpose as to how those funds are used for education. However, there comes a point when the citizens basically say, enough. I believe in seven of the last nine bond issues/overrides, the citizens have said just that. Taxation of citizens, for whatever the purpose, is not the only way to generate revenue."

And, while acknowledging his friendship with Sonoran News Publisher/Editor Don Sorchych, Francia said that has never stopped Sorchych "from taking me to task in print when he disagrees with a stance or a vote I cast. And, that's the way it should be. I expect no special treatment nor am I accorded any. The role of the press, be it of a local, state or national level, is to hold public officials accountable and to foster discussion/debate."

Francia called Schaefer's decision to deprive his family of enjoying and benefitting from "the uniqueness that is Cave Creek," a shame.

In conclusion, Francia stated he sincerely respected Schaefer's views without expectation Schaefer would respect his and said, "I believe we have exhausted this subject. This will be my last communiqué."

And, Francia is correct about there being ways to generate revenue without imposing taxes.
In fact, the cost of the district's last four elections totaled $287,000.

This past override election alone cost $124,000 because it was in an off year with no cost sharing, as with most of the district's elections.

Those costs are what the district paid to conduct the elections and do not include what the district paid in consulting fees.

Then there was the LearnYes.org Political Action Committee, which spent an unprecedented $40,000 advocating passage of the November override election.

The money spent to conduct elections and to advocate for higher property taxes could have instead supported salaries and benefits for at least seven teachers.

And, if the money donated to the political action committee were instead donated to the district, it would have been a tax deductible donation.