FEBRUARY 8, 2012
Ben Quayle announces run for reelection in CD-6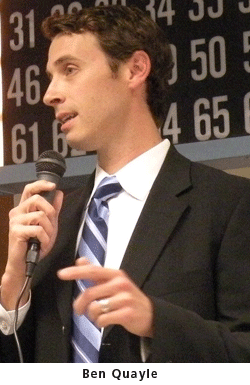 PHOENIX – Representative Ben Quayle issued the following statement regarding his decision to seek reelection to the House of Representatives. Quayle announced he will be running in Congressional District 6, where more than two-thirds of his current constituents live:

"The House of Representatives was conceived and designed to provide local representation of the diverse communities of America. The work of Arizona's redistricting commission has placed many people in difficult positions, but at the end of the day my choice is to continue representing the people I represent today. The large majority of them are in District 6, and their values are my values.

"It has been a privilege to get to know my constituents, both as a candidate and as their Congressman. In my initial year in Congress I have focused on maintaining my connection to them. The interactions I've had with them and the relationships we've built have enabled me to be an effective advocate and voice for the community.

"As this primary moves forward I sincerely hope we will see a campaign focused on the critical issues facing Arizona and our country. This should be a substantive race with a tone that honors our party, our nation and the voters of the 6th District.

"I ran for Congress because Washington needs real reform. We need to simplify the tax code, end unnecessary regulations and free America's creative spirit. I believe that members of Congress need to give up their gold-plated pensions and perks and share in the same sacrifice as all Americans. I believe we need to end the complacent career culture of politics in Washington and shake up the system. I believe we have a president who fundamentally misunderstands America, and an administration that has serially abused Arizona. I want to go back to Washington to fight for the state I love and the values I believe in. With the continued support of my fellow Arizonans, that's what I will do."