BY LINDA BENTLEY | JANUARY 25, 2012
Citizen scrutinizes master fire contract numbers
Court consolidation still under consideration for Cave Creek?
CAVE CREEK – The first council meeting of the year, which barely lasted 10 minutes, brought Dennis Wine to the podium during call to the public.

Wine questioned if the minutes from the last council meeting, regarding discussions about placing a contract for $1.3 million with Rural/Metro Fire Department on the ballot as a property tax, accurately reflected what was said and if what was said was accurate.

Mayor Vincent Francia said he would pull the minutes from the consent agenda, and asked if Wine could return to the podium to address those errors after the rest of the consent agenda, which included a deed of gift to the town for a public right-of-way and the cancellation of the Feb. 6 town council meeting, was passed.

When Wine returned to the podium, he asked what LPD was, since there was nothing he could find with regard to property taxes referring to LPD.

Vice Mayor Ernie Bunch said that was just a typo and it should read "LPV" for Limited Property Value.

Town Attorney Marlene Pontrelli told Wine the minutes reflect what was stated during the meeting.

Wine then questioned the statements about how the property tax calculations for generating the estimated $1.3 million to fund a master fire contract were derived, whereas the minutes state the number is derived by "dividing the net assessed value for Cave Creek, which is $149,216,528 by 100 to get this Uniform Fire Coverage Tax Rate of $0.8712172, which will be applied to various property values."

Wine said the math, as presented, doesn't add up and there was nothing indicating how the town arrived at the $1.3 million figure.

He stated, "Right now I'm paying about $800 and change. With this, it will be around $600 and change," and said, the way he sees it, he should be paying closer to one half (if everyone is forced to pay).

Town Manager Usama Abujbarah invited Wine to come to town hall the next day to speak to Mike Rigney, who would explain it to him.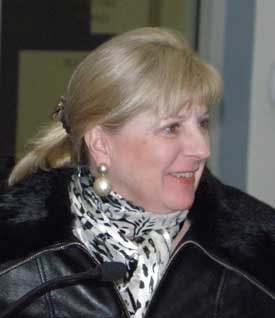 Council unanimously passed an agreement between the town and Attorney Lianne Sefcovic (l), who was recently appointed town magistrate through June 2013.

The agreement specifies Sefcovic will be paid $1,667 per month for the term the agreement is in effect, to be paid on an annual basis.

However, Pontrelli pointed out there was possibility of consolidating courts in the future and told council the agreement included a clause to allow for that.

Section 6 of the agreement reads: "The parties understand and agree that this agreement is predicated upon the continued existence of the magistrate court. As a result, the parties further agree that in the event the magistrate court is consolidated with another court then the terms of this agreement shall likewise terminate on date of any consolidation agreement."