JANUARY 25, 2012
Scottsdale honors its employees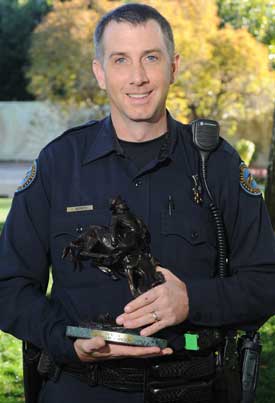 Officer Craig Abernathy was named the 2011 recipient of the Herbert R. Drinkwater Award and Sergeant Larry Marmie was named the recipient of the Bill Donaldson Award at the city's annual employees' award ceremony.

The Drinkwater award, in its 14th year, goes annually to a Scottsdale city employee or employees who set an outstanding example through their volunteerism and dedication to serving others.

Abernathy embodies the essence of "serving our community." He volunteers and advocates for many community organizations. They include the Mall Walk at Fashion Square to benefit DrugFreeAZ, Special Olympics and the Shop with a Cop program sponsored by the Police Officers of Scottsdale Association. When the Shriner Circus came to town, he established a program offering free admission to low income children and arranged for free transportation to the circus. He also presented each child with a donated bicycle.

"This individual embodies the essence of serving our community," said Mayor Jim Lane in presenting the award. "He dedicates his time and talents to benefit primarily children in this community. He truly cares about making a positive impact and is a wonderful role model."
The Drinkwater Award is named in honor of the city's former mayor, who served four terms and became one of the most popular elected officials in the state. Drinkwater retired in 1996. He died of cancer in 1997.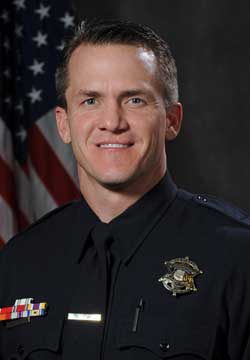 Sergeant Larry Marmie (r) received this year's Donaldson Award, named after a former city manager. The award is given annually by the Scottsdale city manager to an employee or group of employees who show great vision and innovation, help others through humanitarian efforts and work as team-builders.

"This individual has distinguished himself as a true visionary, an outstanding manager and a compassionate leader," said City Manager Dave Richert. "Through his guidance and expertise this past year alone, the Police Department's School Resource Unit has implemented several programs and events that benefit our community."

Scottsdale City Manager Dave Richert and the city's executive staff presented the following awards to individuals for exhibiting traits embodied in the eight Employee Values. The recipients were:

"Be Accountable and Act with Integrity" – Parking Enforcement Systems Development Team: Jacob Beard, Christopher Colemere, David Masciangelo, Michael Miller, Steve Parr and Eric Wood.

"Collaborate as a Team" – The Bicycle Friendly Community Team a cross-departmental team of 48 staff members.

"Focus on Quality Customer Service" – Emergency Response Team: Nathan Davis, Ronald Dolack, Jeremy Dye, Jeffrey Fritsch, Keith Gurka, Sandi Hlebaen, Michael McCormick, Jeffrey Quill, Ernest Rapp, Keith Rohrer, Michael Schulz, Daniel Turley, Thomas Walsh, Cari West and Joseph Zappanti.

"Learn and Grow Continuously" – Growing Smarter Grant Team for Preserve Land Acquisitions: Kroy Ekblaw, Lee Guillory, Scott Hamilton, Mary Beth Hunt, Donald Meserve, Joseph Padilla.

"Listen, Communicate, Take Action" – Phoenix Waterline Outreach Project Team: Greg Bestgen, Annie DeChance, Christopher Hassert, Charles Hill, William Kalber, Joseph Morris, Ralph Noriega, Moncef Tihami and Larry Tritz.

"Plan and Innovate Award" – Gimme Engine Brain Trust: Amy Davison, Lindsey Donovan, Kristine Eickhoff, Colleen Gorman, Richard Howley, Anna Mathews, Beth Medley, Brad Morse, Ann Porter and Kathy Schoepe.

"Respect the Individual Award" – Ken Nemec

"Show Caring and Compassion Award" – Diane Montemayor