Obituary
JANUARY 12, 2012


Frank Joseph Capri
Mr. Frank Joseph Capri passed away peacefully on January 2, 2012 at 93 years young. He was born May 6, 1918 and is survived by his son and daughter-in-law Russell F. and Heather Capri; grandchildren Mary Rose and Joseph Capri.

Frank was a WWII veteran and attained the rank of Master Sergeant. He moved to Arizona with his family in 1949.

Services will be held on Friday, January 20 at Messinger Pinnacle Peak Mortuary, 8555 E. Pinnacle Peak Rd., Scottsdale, AZ 85255, 480-502-3378. Viewing 9:30 a.m.; memorial service 10:30 a.m. Grave side service to follow, approx. 12 noon, at St. Francis Cemetery, 5005 E. Oak St., Phoenix, AZ 85008, 602-267-1329.

Obituary
JANUARY 18, 2012


Ferrell Malcolm Anderson, Jr.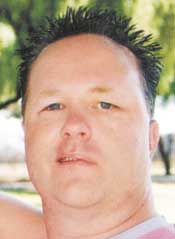 Ferrell Malcolm Anderson, Junior (better known as Malcolm) was born Feb. 25, 1969, in Richardson, Texas. The family resided in Lucas, Texas, and then moved to Dilley, Texas, located Southwest of San Antonio. Malcolm attended Dilley Elementary School and Faith Christian Academy.

While in Dilley he was a Cub and Boy Scout, played Pee Wee and Little League Baseball, and was an active member of the United Methodist Church Youth.

In June of 1985, he and his family moved to Cave Creek, Arizona. He attended Cactus Shadows High School in Cave Creek. Malcolm lettered in football, baseball and track for the Falcons and was named Athlete of the Year for 1987. He was also a member of Student Council and attended Boys State. Malcolm attended Cheley Colorado Camps in the 1980s, and was awarded the highest award, the Gold Key.

Malcolm graduated from Cactus Shadows High School in 1987 and from Arizona State University College of Engineering, in Electrical Engineering Technology, in 1996. He did an internship with Adflex Flexible Circuit Company, and then to present, was a Senior Engineer for Redflex Traffic Systems, in Deer Valley.

He was an active player in Softball, Sanborn Elementary School Dad's Club, Cub Scout Pack Assistant Den Leader and enjoyed going to custom car shows.

He is survived by his wife, Amy Rosenthal, and his children, Lauren and Cody, of Candler, Arizona; his parents, Ferrell and Jean Anderson, Rio Verde, Arizona; his brother Chris and wife Kerri, along with their children, Hunter, Madison and Rylee, of Gilbert, Arizona.

A celebration of Malcolm's life was held at the McDowell Mountain Church on Wednesday, Jan. 18, 2012.