JANUARY 18, 2012
Letter of intent signing for Hillier and Scarpulla at PVCC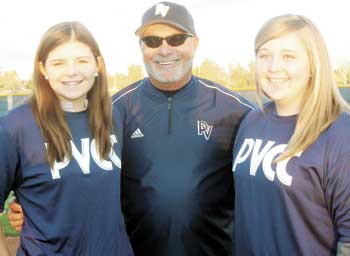 Megan Scarpulla, outfielder and Kristin Hillier, third baseman, signed their letters of intent Monday evening at 5 p.m. at Paradise Valley Community College Puma's softball field. (l-r) Megan Scapulla, Coach Nick Candrea from PVCC, and Kristin Hillier.

Photo courtesy of
Danica Gianni


JANUARY 18, 2012
Local Film Festival/Challenge seeks film makers
Take part and be "filmmakers" for a weekend!
The 8th Annual Almost Famous Film Festival 48 Hour Short Film Challenge takes place February 17-19, 2012. This is one of the largest film events in the country with 81 teams participating in 2011.

This event is open to anyone, any age who loves making films! We put the filmmakers first and want your 48 hour experience to be memorable, fun and for your entire team to become Almost Famous!

Our participants range from first-time amateurs to seasoned professionals. It's a very rewarding experience and we have a solid reputation for hosting a great challenge where we really cater to the filmmakers and put on an incredible event. And it can be a little crazy too! Making a film in just 2 days or 48 hours brings a lot of fun mayhem!

Teams create a 1-5 minute film in just 2 days or 48 hours. In addition to meeting this challenging deadline, teams must also incorporate this year's official guidelines which will be revealed on Friday, February 17 at our kick-off party (t.b.a.) or online. We will be announcing a Theme, Line of Dialogue and a Prop.

Films that are turned in and meet the guidelines will be reviewed before a panel of judges who will select the Top 20 films for the Public Screening (t.b.a.) at AMC Theatres in downtown Phoenix.

To register for the challenge, simply pay the entry fee below, sign the online release form and then count the days until your 48 hour adventure begins! Teams can be any size, just assign one person as the Team Leader.

The entry fee is $40 from Jan. 1-20 and $50 from Jan. 21 - Feb. 17. You may use your credit/debit card or PayPal. There will be no refunds.