JANUARY 11, 2012
Desert Hills resident contributes to Extreme Makeover: Home Edition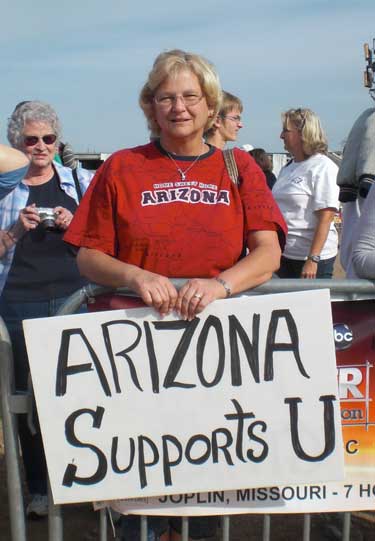 Donna McCoy Shay, a former Missouri resident, was visiting her parents of Carthage, Missouri in October, when she learned that Extreme Makeover: Home Edition was going to build 7 houses in 7 days for families who lost their homes in the May 22, 2011 tornado in Joplin, Missouri. The EF-5 tornado killed 162 and devastated or damaged 8,000 buildings. Donna applied and was selected to help as a volunteer with the build from the more than 10,000 applicants.

At the recommendation of a mosaic artist with previous EMHE experience, Donna was requested to work the design and installation of the decorative fireplace feature due to her artistic expertise. Extreme Makeover designer Michael Moloney, requested the fireplace be tiled with recycled glass bottles of various colors for the Eco-friendly house. Recycled bottles were gathered, bottoms cut off, cleaned and filed. Blue bottles were extremely rare.

Recyclers from all around the area were asked to dig through their recycled piles for the blue glass. At completion, more than 600 bottles had been placed to tile the fireplace.

Shay said, "I was totally exhausted at the end of the project but thrilled to have had the opportunity to give back to the Joplin community. I had seen pictures of the damage caused by the tornado but until you stand on land that was once home, you can't feel the real destruction. My best friend and goddaughters lost everything but their lives. It was sad to see the trees, the homes and buildings gone. But it was nice to see progress of rebuilding Joplin after all the devastation caused by the tornado."

This was the most ambitious project for EMHE to date. It was amazing to see 7 houses be built in 7 days and finish 12 hours ahead of schedule.

The episode of "7 houses in 7 days" in Joplin, Missouri will air Friday, Jan. 13 at 7 p.m. on ABC, a special 2 hour edition of the show's 200th episode.