BY LINDA BENTLEY | JANUARY 11, 2012
Joe Diaz keeps a stiff upper lip in quest for justice
Disgraced former Top Rank boxing promoter Peter McKinn's restitution hearing continued to Feb. 24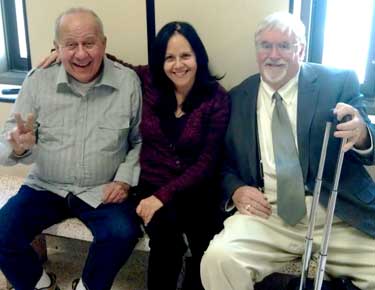 Although this was the second time Peter McKinn's restitution hearing has been rescheduled, Joe Diaz (l), pictured with his sister Rosie and Attorney Ed Moriarity, has not lost hope that justice will eventually be served.
Photo by Linda Bentley



PHOENIX – On May 5, one month, to the day, after Peter McKinn, a former Top Rank Boxing promoter, pled guilty to one count of theft, two counts of solicitation to commit perjury, as class 6 undesignated offenses, and was sentenced to five months in jail, boxing trainer Joe Diaz suffered a major heart attack.

While McKinn was serving his sentence for bouncing a $5,000 check to boxer Luis Ramon "Yory Boy" Campas and the fraud that ensued to cover it up for more than half a decade – a conspiracy that involved Maricopa County Supervisor Mary Rose Wilcox, her husband Earl Wilcox and a host of other prominent persons in Arizona's boxing and political arena, Diaz, who has since recovered, spent 41 days in a coma.

At the time McKinn was sentenced in April, Maricopa County Superior Judge Arthur Anderson left the restitution portion open for an additional six months.

A restitution hearing was initially scheduled for Dec. 2, but McKinn requested and was granted a continuance until Jan. 6.

However, when the parties showed up in court last Friday, McKinn's Attorney Brian Russo, Gila County Prosecutor Daisy Flores and Attorney Ed Moriarity, representing victims Diaz and Campas, spent a great deal of time in chambers with Judge Dawn Bergin.

According to Moriarity, Bergin found the case much more complicated than she originally anticipated.

When they emerged, Bergin set out the process for proceeding on the restitution issue, whereas Moriarity would file a brief laying out all the components and exhibits by Feb. 6, Russo would file objections by Feb. 16 and the hearing was rescheduled for 8:30 a.m. on Feb. 24.

Meanwhile, Diaz and Campas' civil complaint against the cast of conspirators in the cover-up has been removed from Maricopa County Superior Court to U.S. District Court by Arizona Assistant Attorney General Fred Zeder, representing the state defendants.

That was followed by a joint motion by Zeder and Attorney Jorge Franco, representing Maricopa County, Mary Rose Wilcox, in her capacity as Maricopa County Supervisor, and former County Attorney Richard Romley, requesting permission to file two separate motions for summary judgment stating in addition to the complaint being time barred by the statute of limitations, other claims raised in the complaint are barred for failure to include them in the plaintiffs' notice of claim.

According to Moriarity, the rules of civil procedure allow for a single motion for summary judgment.

Zeder and Franco are apparently requesting an exception to file "a motion to dismiss and/or for summary judgment prior to an answer while preserving defendants' right to later file a motion for summary judgment after discovery is completed on the merits of any issue which may survive defendant's first motion."

On Friday, Jan. 6, Zeder filed a motion to dismiss on behalf of the state defendants, including former Governor Janet Napolitano, Arizona Director of Boxing John Montano, Mary Rose Wilcox, individually and in her capacity as a former member/chair of the Arizona State Boxing Commission, and Earl Wilcox, individually and as an ex-special assistant to former Governor Janet Napolitano.

Zeder argues in his motion to dismiss, "The alleged criminal violations do not permit recovery for state law civil conspiracy. In Arizona, civil conspiracy requires plaintiffs to plead and prove a 'civil wrong as opposed to joining in a criminal scheme' … Because plaintiffs' alleged criminal violations do not create a private cause of action, they are not civil wrongs and therefore not a basis for recovery."

Attempting to prosecute corrupt public officials for criminal acts seems pretty close to impossible in Arizona.

Just ask Sheriff Joe Arpaio and former County Attorney Andrew Thomas.