Obituaries
JANUARY 4, 2012



Elizabeth A. Quinton
Elizabeth A. "Betty" Quinton, former resident of Cave Creek, passed away December 17, 2011 in Phoenix.

Betty was born in South Carolina October 10, 1920. She was preceded in death by her husband, Edgar, who passed away in 1977. Betty and Edgar were married in 1946. In 1959, Betty and Edgar moved to Cave Creek and operated the Cave Creek Store, 6131 E. Cave Creek Road, until 1969. They purchased the Cave Creek Cottages, 6535 E. Cave Creek Road, in 1961 and operated them until 1985 when Betty sold the cottages and moved to Phoenix. Betty was active in the Cave Creek Mothers Club, Desert Hills Presbyterian Church, and Order of Eastern Star.

Betty is survived by four sons, William C. Quinton of Laveen, Ariz., Robert W. "Rusty" Quinton of Livingston, Mon., James R. Quinton, of Strawberry, Ariz., and Charles E. Quinton, of Fort Collins, Colo. She is also survived by eight grandchildren and three great grandchildren.

Interment in the Cave Creek Cemetery took place on December 21, 2011. In lieu of flowers, donations are requested to the American Cancer Society or Shriners Hospitals for Children.
Patrick Ellis Stahel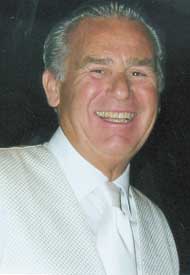 Patrick Ellis Stahel of Lake of the Woods, Minn. and Carefree, Ariz., formally of W. St. Paul, Minn. and Jackson, Wyo. passed away January 1, 2012 after a spirited fight with lung cancer.

Pat owned a successful printing business, Printed Media Services in Golden Valley, Minn.

While building his company from the ground up, Pat instilled a work ethic that was admired throughout the organization. As he carved out his niche in the business world, Pat was working on his dreams as well. His life-long interests included reading, fishing, hunting and traveling, There was never a moment that he wasn't working towards his next "big project."

Pat was committed to being a steward to the outdoors through Ducks Unlimited and making the occasional bird house.

He was considered a best friend by many, and brought family and friends together with a contagious personality and unmistak-able love. Daily phone calls usually started with a heartfelt "Howdy, howdy, howdy, just checking in."

Among Pat's early adventures was one that took him to Spruce Island, Lake of the Woods. That led to his biggest dream, Angel Fire Lodge. His love for the outdoors was shared by many who were fortunate enough to visit him there. Teaching his grandchildren about the natural beauty that surrounded them at the lodge was among his greatest passions.

Pat is preceded in death by his parents Ernee and Arnold, and his beloved dogs Hans, Bugsy and Molly. He is survived by his loving wife Lynne, his devoted children Kim (Dave McDonough), Kari (Dave Lau), Kellie (Monte Koch), his adoring sister Becky (Louie Colladora), brother Mike (Dorothy), admiring grandchildren Jack and Sam, Nick and Raylin, Jake and Taylor. Precious dogs Max and Racey, niece and nephews and many wonderful friends.

Memorial Service will be 2:30 p.m. Tuesday, Jan. 10, 2012 at Carefree Church, 5025 E. Carefree Highway, Carefree, with a reception to follow from 4-7 p.m. at Desert Mountain Geronimo and Coshise Club House, 10333 Rockaway Hills Dr., Scottsdale (Carefree). Donations to the Salvation Army can be made in his name.