BY LINDA BENTLEY | DECEMBER 28, 2011
Bicyclist hit by driver making left turn airlifted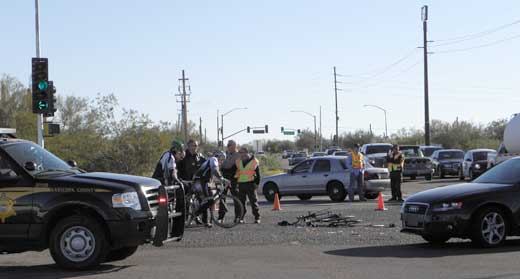 CAVE CREEK – Michael McQueen was airlifted to the hospital shortly after 9 a.m. on Tuesday after being hit by a motorist making a left turn onto northbound Cave Creek Road from Carefree Highway.

According to witnesses, McQueen was riding his bicycle with two friends headed westbound on Carefree Highway with the green light crossing Cave Creek Road when an elderly motorist turned left right into the group.

The driver narrowly missed the first bicyclist by a hair, striking McQueen, who was riding between the other two.

According to a friend of the bicyclists, who spoke to McQueen's father from the hospital, McQueen suffered a broken wrist, broken femur and road rash but had regained consciousness by noon.

The friend said, "He's banged up pretty bad but seems he will recover as of right now."

The driver of the vehicle that hit McQueen appeared stunned as he sat in his car, which received extensive damage to the front end and windshield, while Maricopa County Sheriff's deputies diverted traffic and took statements from witnesses.

According to MCSO, McQueen's totaled bicycle was very high end, costing upwards of $5,000.