DECEMBER 21, 2011
Babeu MCSO findings distraction for border patrol murder anniversary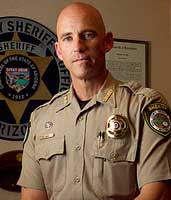 Department of Justice findings on Maricopa County Sheriff's Office are intended to remove the spotlight from Washington on the anniversary of a border agent's murder.

"The fact [the Department of Justice] chose today to release their findings was only done to take the attention away from themselves. Today marks the one year anniversary since the murder of U.S. Border Patrol Agent Brian Terry," said Babeu (r) in a press release.

According to Babeu, Terry's family are demanding the federal government take responsibility and arrest those who were involved with the crime. The gun that killed Terry was found to be apart of the botched "Operation Fast and Furious" program that attempted to track weapons trafficking across the border.

"I have little faith and trust in the U.S. Department of Justice after the actions, subsequent cover up and failure to accept responsibility regarding Operation Fast and Furious," said Babeu in the release.

Operation Fast and Furious sent about 2,000 guns, including assault rifles, across the border. Those are now in use by Mexican cartels.

"Within 12 hours of the Terry family having announced they want justice against all of those responsible for Operation Fast and Furious, the U.S. Department of Justice decides to release their findings from a 3 ½ year old investigation on MCSO?

The timing of the release of the MCSO investigation by the U.S. Department of Justice was only done today in an attempt to take away the negative attention from their responsibilities for Brian's murder and the murders of hundreds of people in Mexico," said Babeu in the release.

Maricopa County Sheriff Joe Arpaio's office committed a wide range of civil rights violations against Latinos, including a pattern of racial profiling and discrimination and carrying out heavy-handed immigration patrols based on racially charged citizen complaints, according to a report obtained by the Associated Press. Apart from the civil rights probe, a federal grand jury also has been investigating Arpaio's office on criminal abuse-of-power allegations since at least December 2009 and is specifically examining the investigative work of the sheriff's anti-public corruption squad.

The civil rights report said federal authorities will continue to investigate complaints of deputies using excessive force against Latinos, whether the sheriff's office failed to provide adequately police services in Hispanic communities and a large number of sex-crimes cases that were assigned to the agency but weren't followed up on or investigated at all.