BY LINDA BENTLEY | DECEMBER 14, 2011
Scottsdale teen arrested at Village Apartments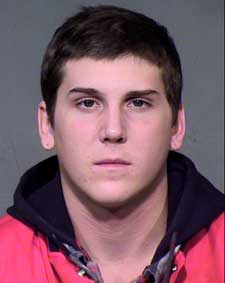 CAVE CREEK – Scottsdale resident Shane Michael Banks (r), 19, was arrested early Wednesday morning while visiting a friend in an upstairs apartment of the Village Apartments located at 6434 E. Cave Creek Rd.

According to the Maricopa County Sheriff's Office, Banks was playing with a loaded gun when it discharged, sending the bullet through the floor into the apartment below.

Banks was booked into the Maricopa County Jail and charged with one count each of disorderly conduct with a weapon and endangering the life/health of a minor, both class 6 felonies.

The current charges are not bondable due to Banks being out on his own recognizance and/or bond in two other pending cases.

Banks was arrested in August for trafficking in stolen property, a class 3 felony, and in September for marijuana and drug paraphernalia violations, class 4 and class 6 felonies, respectively.

In October, upon entering a not guilty plea on Banks' behalf in the marijuana and paraphernalia case, Maricopa County Superior Court Commissioner Brian Rees ordered Banks to be released to the supervision, restrictions and conditions of the Pretrial Services Agency of the Superior Court, including drug and alcohol monitoring, testing, evaluation and/or treatment as directed by the agency.

According to MCSO, marijuana was also found at the apartment where Banks was arrested. However, neither man was charged with possession.