BY LINDA BENTLEY | DECEMBER 14, 2011
Walmart associate arrested in fake bomb scare
Intentionally or knowingly engaging in conduct that is likely to impart the false impression that an act of terrorism is taking place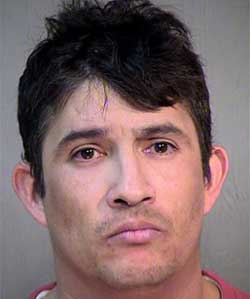 CAVE CREEK – Maricopa County Sheriff's deputies arrested Walmart Associate Joseph Charles Granillo (r), 39, on Dec. 3 in conjunction with the bomb scare that evacuated the Cave Creek Walmart store shortly after 4 p.m. on Thanksgiving for nearly seven hours, just as the store was gearing up for its heavily-promoted early Black Friday.

Granillo, who is suspected of placing a simulated bomb in the refrigerator of the employee break room, was charged with one count each of knowingly imparting a false impression and misconduct involving a simulated explosive device, class 4 and class 5 felonies, respectively.

A.R.S. § 13-2925 makes it unlawful for a person to intentionally or knowingly engage in any conduct that both is likely to impart the false impression that an act of terrorism is taking place or will take place and would reasonably be expected to cause or that causes an emergency response by a governmental agency.

A person convicted under this section may be held liable for any expenses incurred incident to the emergency response and the investigation of the commission of the offense.

"Expenses" is defined as any reasonable costs directly incurred by the entity or entities making an appropriate emergency response to the incident or an investigation of the offense, including the costs of providing police, fire fighting, rescue and emergency medical services at the scene of the incident and the salaries of the persons who respond to the incident.

A person commits misconduct involving simulated explosive devices (A.R.S. § 13-3110) by intentionally giving or sending to another person or placing in a private or public place a simulated explosive device with the intent to terrify, intimidate, threaten or harass.

Placing a simulated explosive device without written notice attached to the device in a conspicuous place that the device has been rendered inert and is possessed for the purpose of curio or relic collection, display or other similar purpose is prima facie evidence of intent to terrify, intimidate, threaten or harass.

MCSO executed search warrants last week at Granillo's Phoenix residence and 1988 Chevy Suburban.

After filing for divorce in late August, Granillo's wife was granted a motion to have her address protected from her estranged husband.

Granillo's run-ins with the law have been minimal. He received two citations in 1999 in Fountain Hills.

One was for no current registration, failure to produce evidence of financial responsibility and no legible driver license in his possession.

The second citation was for failure to produce evidence of financial responsibility and was later dismissed.

More recently, Granillo was cited in May 2011 in Scottsdale, where he pled guilty to knowingly displaying a fictitious license plate.

Granillo is being held at Maricopa County Jail in lieu of $27,000 bond.