DECEMBER 7, 2011
A dog's best friend, Seven Dogs Grooming & Boutique now open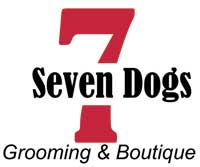 SCOTTSDALE – Seven Dogs Grooming and Boutique is so much more than a name. Seven is the lucky number! Seven represents the five dogs adopted by co-owner Brian Gindlesperger and the two adopted by co-owner Christopher Nobilio. Five of the dogs are rescues from shelters and two are rescues from a puppy mill.

Gindlesperger and Nobilio feel fortunate to be given the opportunity to provide wonderful homes to these seven dogs/family members. They agree, "Pets provide compassion, warmth, care and unconditional love. Seven Dogs Grooming is designed with this in mind."

In addition to the finest grooming services available in north Scottsdale, Seven Dogs offers a host of top quality pet foods – raw, organic, holistic/natural foods and products.

Seven Dogs Grooming is located in the Village at Pinnacle Peak. It is actively involved with and a proud supporter of Foothills Animal Rescue nearby. Nobilio is also a member/volunteer with TARA, Tucson Avian Rescue and Adoption, a parrot rescue.

The owners of Seven Dogs Grooming and Boutique offer a heartfelt thanks to all their customers for their patronage. "We look forward to growing our business and servicing your pets' needs in the years to follow!" Customer service, quality service and a warm, caring environment is what Seven Dogs Grooming and Boutique is all about. Remember, curbside pickup and drop off are available!

As a holiday gift to clients, through Dec. 20, receive a complimentary 5x7 holiday photo with any bath or groom!

Stop in at 8711 E. Pinnacle Peak Rd. or call 480-513-3868 for details.