BY LINDA BENTLEY | NOVEMBER 22, 2011
Wild at Heart's dedication to raptor rescue, rehab and release
The all-volunteer organization, dedicated to the rescue, rehabilitation and release of birds of prey seeks volunteers and donations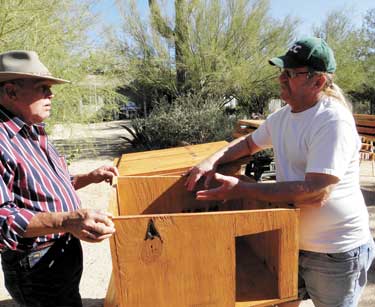 Bob Fox (r), co-founder of Wild at Heart, is pictured explaining to Cave Creek Councilman Dick Esser the boxes the organization makes to help reintroduce barn owls back into the wild once they are fully rehabilitated.

Photos by
Linda Bentley


CAVE CREEK – Tucked away in the fringes of a Maricopa County Island just south of Cave Creek lies Wild at Heart, a nonprofit organization that focuses on raptor rescue, rehabilitation, release and relocation.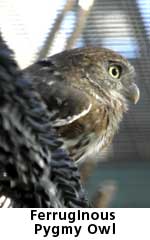 Bob Fox and his wife Sam have now dedicated their lives to this effort for over 20 years, relying on volunteers, private donations and grants to keep it running.

On any given day there can be anywhere from 200 to 350 injured, sick or orphaned raptors at their facility that require care until they can be released back into the wild.

During the summer months the raptor population is at its highest as there are concerns with releasing birds back into the wild during months when there is little food or water to be found.

Sonoran News toured the facility last week with Cave Creek Councilman Dick Esser and saw the vast array of birds being cared for by Wild at Heart.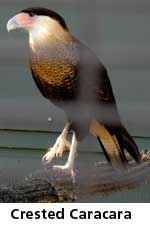 Wild at Heart's rehab center is currently housing over 200 birds, ranging from numerous species of owls, including the formerly endangered Ferruginous Pygmy Owl, which the Foxes have had some success with breeding; Burrowing Owls, which Bob has been involved by creating habitat and relocating; Barn Owls; Great Horned Owls and Long-eared Owls; to a variety of falcons to the more exotic Crested Caracara.

Feeding these birds every day with frozen and/or live mice takes time and costs money.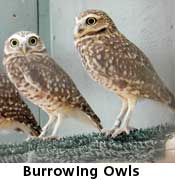 The Foxes have operated Wild at Heart as an all-volunteer effort since inception and there is always a need for donations and volunteers to help at the facility and write grant proposals.

To learn more about Wild at Heart or make a donation, visit www.WildAtHeartOwls.org.

For assistance with Eagle Scout projects, raptor surveys and burrowing owl relocation contact Bob@WildAtHeartOwls.org.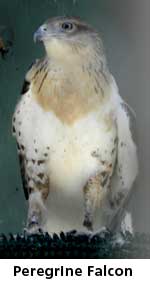 Contact Sam@WildAtHeartOwls.org regarding donations, volunteering, corporate events, community service and educational presentations.

For injured bird emergencies call 480-595-5047. For all non-emergency situations, Sam asks that you call between 10 a.m. and 4 p.m.

Although Wild at Heart will not pick up non-raptors, it will assist songbirds, quail, baby rabbits and other critters from the Cave Creek area brought into their facility for temporary care until they can be safely transferred to other rehabbers who specialize in each type of species.